I lost track of how many tangential clicks off what I set out to do on the web this morning, but cannot help but admire, and absorb more deeply Ten Tips for New Trainers/Teachers:
Just because you've used lots of software doesn't mean you can write code. Just because you've been in lots of buildings doesn't mean you can be an architect. And just because you've logged a million frequent flyer miles doesn't mean you can fly a plane.
But if that's all ridiculously obvious, why do some people believe that just because they've taken classes, they can teach? (Or just because they've read lots of books, they can write one?) The problem isn't thinking that they can do it, the problem is thinking they can do it without having to learn, study, or practice.

I'm amazed (and more than a little disheartened) how many people believe that simply by virtue of their being skilled and knowledgeable in something, they're implicitly qualified to communicate, mentor, teach, or train that thing. It devalues the art of teaching to think that because you've been a student, you can teach well. That because you've experienced learning, you can craft a learning experience.

But with that out of the way, nobody needs a PhD (or in most cases — any degree at all) in education or learning theory to be a good teacher. Just as there are plenty of great software developers and programmers without a CompSci degree. People can be self-taught, and do a fabulous job, for a fraction of the cost of a formal education, but they have to be motivated and they have to appreciate why it's important.
And you have to dig the fun graphics: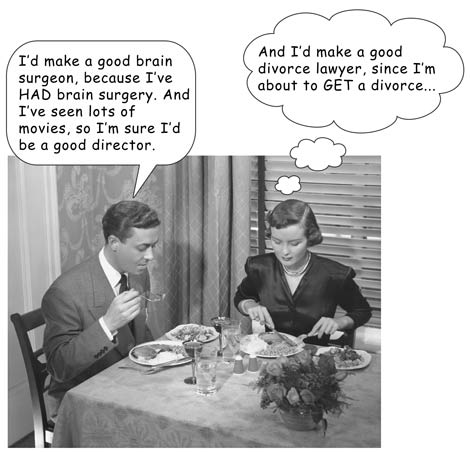 … and the main site logo for Creating Passionate Users "Scoble says blogging will make us rich and improve our sex life…"

But do not take the sarcastic criticism as a big bad bite– this posting includes a great set of practical tips for anyone teaching or doing a workshop, and prevent you from reading Powerpoint bullets while your audience surfs the wireless and wonders how they got trapped in your session… I've left off the fine details, but these are many things I have accumulated as my own modus operandi while presenting
Eleven Things to Know
1) Know the difference between "listening" and "learning".
2) Know how the brain makes decisions about what to pay attention to, and what to remember.
3) Know how to apply what you learned in #2. In other words, know how to get your learners to feel.
4) Know the wide variety of learning styles, and how to incorporate as many as possible into your learning experience.
5) Know the fundamentals of current learning theory!
6) Know why–and how–good advertising works.
7) Know why–and how–good stories work.
8) Know a little something about "the Socratic method". Know why it's far more important that you ask the good questions rather than supply all the answers.
9) Know why people often learn more from seeing the wrong thing than they do from seeing the right thing. Know why the brain spends far less time processing things that meet expectations, than it does on things that don't.
10) Know why it's just as important to study and keep up your teaching skills as it is to keep up your other professional skills. Yes there ARE professional organizations for trainers, with conferences, journals, and online discussions.
11) Know why using overhead slides to deliver a classroom learning experience can–sometimes (often)–be the worst thing you can do.
12) Know how — and why — good games can keep people involved and engaged for hours. Learn how to develop activities that lead to a Flow State.
(Hmmm, more than 10, a bargain!)
Ten Tips for New Trainers
1) Keep lecture to the absolute minimum.
2) It is almost always far more important that your learners nail fewer subjects than be "exposed" to a wider range of subjects.
3) For classroom trainers, the greatest challenge you have is managing multiple skill and knowledge levels in the same classroom! Be prepared to deal with it.
4) Work hard to get everyone to complete the lab exercises, but NEVER give out the solutions in advance!
5) Do group exercises whenever possible, no matter what you've heard.
6) Designing exercises… Note that paper and pencil exercises are GREAT.
7) Leave your ego at the door. This is not about you.
8) Have a Quick Start and a Big Finish.
9) Try never to talk more than 10-15 minutes without doing something interactive. And saying, "Any questions?" does not count as interaction!
10) Don't assume that just because you said it, they got it. And don't assume that just because you said it five minutes ago, they remember it now.
11) If you're not passionate, don't expect any energy from your learners.