I rarely listen to the radio anymore, about as much as I can endure is some public radio during the morning commute, and I have not listened to a music station in eons. So since I have been enjoying my iPod Shuffle, I've been curious about options to use it as a player in my vehicle.
The Shuffle did work well in the VW Beetle with one of those cassette tape player attachments, but the only problem is that a few months ago, my wife and swapped vehicles, just for some variety sake, so now I have the mid 1990s Nissan Pickup (so unattractive with its hood of primer color I will not post flickr photos) which has a CD player but no cassette deck.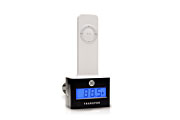 Having heard mixed reviews of the FM transmitter devices (audio output plugged into them is sent to an unused station on your car radio), I was excited to read glowing reviews of the DLO TransPod which provides a dock for the shuffle and pops into a cigarette lighter for power. It is supposed to have excellent sound.
I'll likely give it a try… hmm, with this purchase, the cost of Shuffle accessories of the sports case, SOny earbuds, and the TransPod exceed the cost of the iPod!
This could be the last time I ever listen to anyone's commercial radio broadcast.