Doing productive work today exploring identity and perception via web 2.0 technologies… nah, I am just messing around at BeFunky.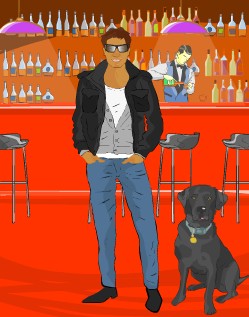 More or less with a limited tool set, you can create a "Uvatar" a mashup of "You" and "Avatar" – when I set up the account as a beta tester, it claimed to create these animation type graphics from an uploaded photo (i sent mine but it never got done) and now it seems that is a $4.99 service charge. So I just used the preset Barbie like choices, to make me a leather dude in a bar. Yeah right. I did have Jennifer Lopez on my arm, but swapped her out when I found a black lab.
You can upload, or take a web cam shot with the Cartoonizer- it creates those kind of images that blur video and animation like Richard Linklater's Waking Life
So am I Funky? Are you?
The post "Am I Funky?" was originally pulled charred and crispy from a smoky charred oven at CogDogBlog (http://cogdogblog.com/2007/11/am-i-funky/) on November 1, 2007.