I have yet to even explore all the features that clicky offers for web stats, but am still on a love plain after accidently discovering it.
I am running the free version here on CogDogBlog, and just found that there are widgets you can use, so I have the daily stats now embedded on my Blogs n' Bits page or what smart people call "colophon". It's done via a Google Module, which means I have one on my own Google ig page.
This also widened my eyes to information I see that any module you can embed on a Google home page can be embedded in other web pages. Hmmm.
In addition, I have been using it on the NMC web site, and today paid for a year's worth of service, meaning I can use it our multiple domains, use the "Spy" real time reporting. I too made a page on the NMC site with not only the web stats, but am embedded Google map showing where today's visitors clicked from: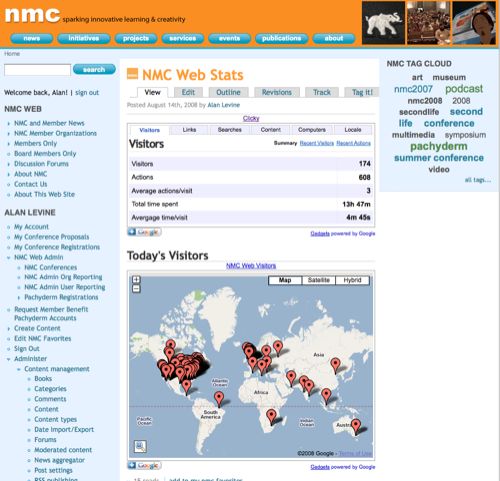 Do you remember in the 1990s when web pages were "designed" for certain monitor resolutions? Fixed versus flexible table layouts? You had to be careful going wide on the page, given the predominance of 640×480 VGA resolution. Looking at today's stats on NMC's traffic, we are way way beyond that limit: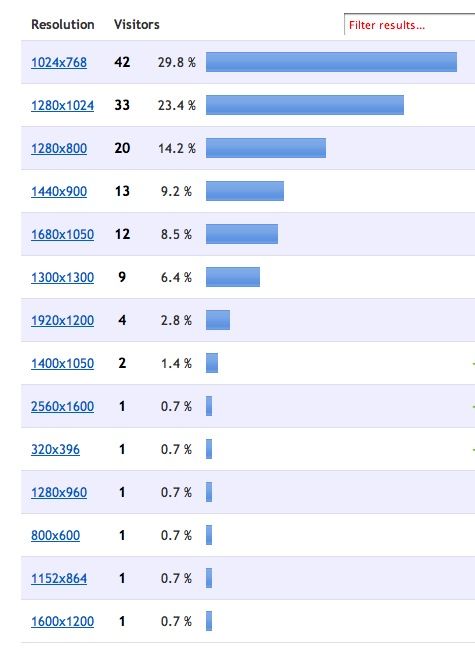 Even 800×600 is at the bottom of the heap, with most screens well into 4 digit resolutions. The NMC site is designed for something greater than 900 wide.
It's a wide screen web world out there.
Well except for one curious outlier.
What device has a resolution of 320 x 396? Hmm must be a mobile?