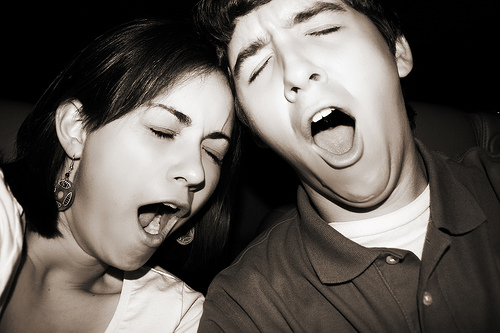 cc licensed flickr photo Day 200/365 "Yawn" by Wellstone
This may be in the "pot calling kettle black" category> tag, but I have this long standing growl in my belly about Screencasts.
The technology is great, lots of tools, free ones, but when we talk about them it seems to be always about the tools.
We rarely talk about the production quality, and I find nearly all of them to be yawn inducing.
I can count on one paw (maybe) the number of screencasts I have been able to watch from start to end. Maybe one tail. Maybe.
Why are they all delivered in monotonic voice? Why is there little human conversational voice? Where is the inflection? I think what happens a lot is we turn on the camera and just start recording, perhaps with an outline list. Or it is too organized, and we get someone reading (monotonic) us in what ends up to me being the informational equivalent of Mrs. Donovan's voice.
And these movies take so damn loooooooong to get to the plot. Way too much set-up, and zero character development
Am I too picky?
And who am I to criticize? I've not done a Sundance/Cannes level screencast myself. Heck, mine have not even approached public access channel quality.
Of course, I am basing this in a rather poor sampling (well just everyone I have bothered to tray and watch).
So while we hone the craft in digital story telling, why do we not use some of the same approaches in teaching how to do screencasts? Why do we focus only on the tools and not the craft?
And like most movie reviews, this is 10000% subjective and your mileage may vary. But for me… most screencasts are useful when I cannot sleep and need a nap.