I have come across a new, and less desirable mode of blogging.
Someone who just grabs something, tosses it on the glass, and leans their thumb on the green "copy" button of the Xerox machine (I thought of writing this as a "ditto" metaphor but would have lost most of my slim audience).
Yeah something I created got lifted and put elsewhere.
And I cannot do anything… because I granted permission.
So it goes like this. When Bryan Alexander and I published our Web 2.0 Storytelling article in the current issue of EDUCAUSE Review, we opted for the most liberal Creative Commons license- By Attribution– permission to re-use if someone just provides attribution.
But just because that permission is out there, and technically one can lift and re-publish– do people ever stop and consider whether it is the right thing to do? To me, the spirit of Creative Commons, of Re-use is to create something new built upon what you have take from, to give back, to contribute something of value to others out there. What is anyone doing for the greater good by just lifting and republishing en-masse? By just leaning their weight on that button and pressing COPY.
I track links, etc via afew different tools, and this is the second case I have found so far of someone lifting the HTML out of the EDUCAUSE site, here a some site purportedly about "emerging green business and community news" although most of the header links end up at some Proposition 8 protest blog (there is a very unwise blog practice, the "about" link for your blog tells you about some other blog, doh).
And here it is, the licensed material: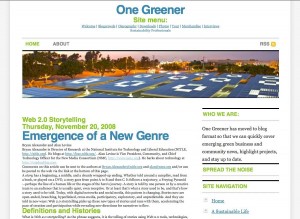 They copied the entire HTML from the EDUCAUSE web site and blogged it on their own.
And in that, I see zero attribution. Attribution means…
Attribution. You must attribute the work in the manner specified by the author or licensor (but not in any way that suggests that they endorse you or your use of the work).

What does "Attribute this work" mean?
The page you came from contained embedded licensing metadata, including how the creator wishes to be attributed for re-use. You can use the HTML here to cite the work. Doing so will also include metadata on your page so that others can find the original work as well.

For any reuse or distribution, you must make clear to others the license terms of this work. The best way to do this is with a link to this web page.
And despite the rant here, I could really give a cat's arse if someone wants to life the HTML form one site and shove it in their own.
I just don't understand why someone would bother doing so.
At November 20, 2008 4:32 PM Alan said…

As a co-author of the article, I am a bit curious why someone would just re-publish it in its entirety in their own blog site? We (the authors) did grant permission to re-use the content under Creative Commons – if you have attributed the article, which I really do NOT see any link to the original published source at EDUCAUSE.

But moreso, I am just plain curious what value it is for your site to be a mere carbon copy? I seek only understanding. We see blogging as a process of reflection, of adding commentary, of building on the work of others, of contributing back in kind… and I fail to see any of that on this web site.

Help me understand.
Again, just because you have granted the permission to re-use content- is a whole sale copy paste an ethical thing to do? What does it do for anyone?
Remember, doing the minimum is just that, the barest possible to squeak by. That is like striving to get a D and being content with that. In these times of uncertainty, where is the spirit of living above the barest minimum?
I just do not get the rationale of blogging by outright copying someone else's work.
You might as well being doing something as worthy as sitting your hairy ass on the glass when you press COPY, cause that is the image you are projecting to the world.
Oh and hell yes, please lift this blog post and slap it in your blog like it was your own.. you have my permission!