After all these years (like maybe 7? 8?) RSS is still so hot some regimes may wish to ban it, but it is the magic magic magic glue that makes content move around the web.
Here is one little story.
At NMC, I run a WordPress powered site to publish stories our Second Life work at the NMC Campus Observer, but we have only a handful of authors, and I must publish 98% of the content. Last year I had an idea to cleverly (I thought) embed a second WP site inside, as a NMC Campus Community Calendar, where people who were part of the NMC SL Community could post events. It is actually a second WP install in a sub directory, branded and designed to look like the main site (I wrote this up last year as Blog in a Blog).
That is just the set up for the scene of this movie. Well, just a story.
(1) On Sunday, Tayzia Abbatoir (SL identity of the curator of the art collections on NMC Campus in SL), posted an event on the Community Events Calendar site on Flickr Gettr, a really neat project on its own that fetches images dynamically from flickr as part of an art exhibit. It's very cool.
(2) Within 3 hours, that same story is republished automatically on the front page of the the parent site, the NMC Campus Observer, by use of the WP-o-Matic plugin, that is able to do this by regularly checking and parsing the feed from the calendar site. (Yes Reverend, I ought to be using FeedWordPress… later).
(3) From the RSS feed on the main NMC Campus Observer site, this story is viewable in Second Life on some RSS screens we have been setting up all over our lands there: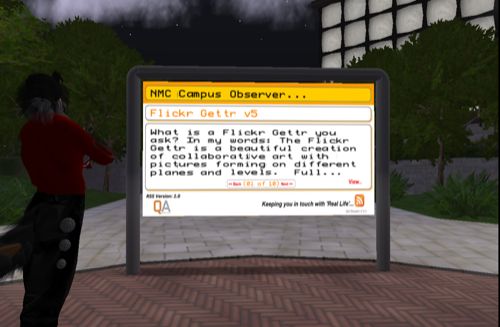 From Second Life, you can click the "View" button in bottom right to open the full link in a web browser.
(4) But wait there is more RSS magic. I have twitterfeed set up to automatically tweet stories published at the Campus Observer to an NMC twitter account where this story is now re-broadcasted… automatically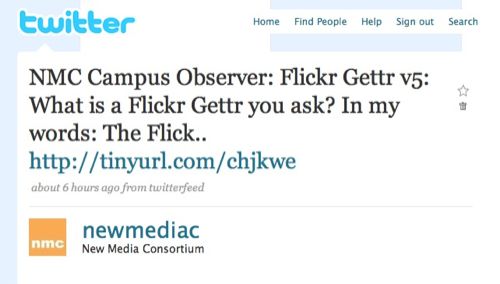 (5) And the story moves along, retweeted by Beth Harris who adds some bits to it as mini commentary: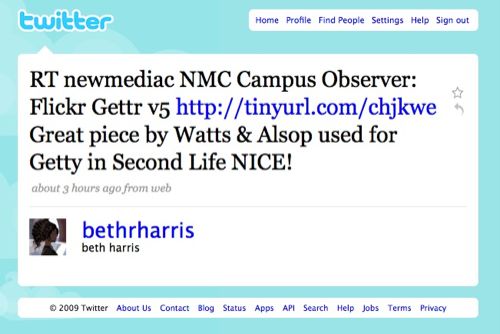 So to recap, I tracked:
Blog Post –> (feed) -> republished in second blog– > (feed) republished in Second Life and to twitter –> retweeted in twitter
And beyond the first creation of content, all of it was automatic or moved along by others.
This makes my inner (and outer) geek so happy. If paper burns at 451°F, what is the temperature of a hot RSS feed?