cc licensed flickr photo shared by cogdogblog
That keynote speaker, is he talking to me?
Yep.
In his ED-MEDIA presentation on Beyond Management: The Personal Learning Environment, slide 14, Stephen describes the process that is at the core of his activity (16,000+ posts since 2001!), which he named in honor of little ole me as ARRFF: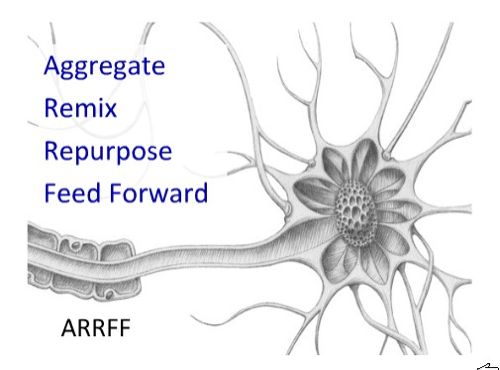 or Aggregate, Remix, Repurpose, Feed Forward.
Stephen was firing on all pistons, and had some great lines on the difference between complicated things and complex things, mesh networks versus star networks, the mystery of the hidden flash animation, the myth of solitary autonomy, some things about butterflies and more. You can catch the audio on his site at http://www.downes.ca/presentation/225
ARRFF! ARRFF! ARRFF! ARRFF! ARRFF! ARRFF! ARRFF! ARRFF! ARRFF! ARRFF!