In some of my recent attempts to get good video on YouTube, I seemed to have been swinging wildly and missing. MPEG-4 video that looked great on my desk top ended up with the voice out of sync with the moving lips.
Before going about it again, I sought out (via the Oracle) suggested settings for getting good quality video out of YouTube (you definitely want something bigger than 320x24o since YT makes it bigger. I found what looked like reliable info from the YouTube Community Forums — Here's Help for Perfect YouTube HD Video Settings!
"Perfect" would be nice, my standards are not quire that high.
So for the latest video in my previous post, these are the settings I ran through QuickTime Pro (actually via the expert settings exporting from iMovie HD):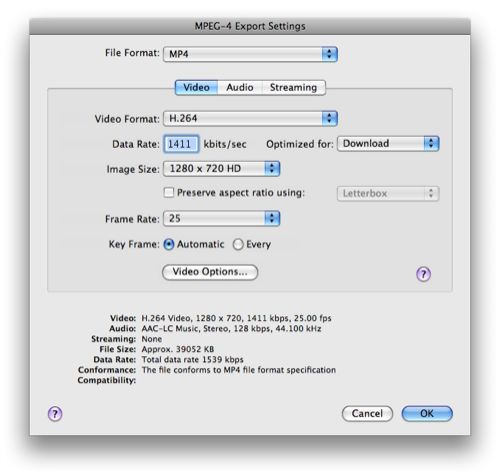 MPEG-4 (MP4) using H.264
Data rate: 1411 kbits.sec
1280 x 720 image size
Frame rate 25 fps
Key Frame: automatic
Under Video Options- Best Quality (multi-pass)
AAC Audio, 44.1 kHz, 128 kbps
This brought my 76 second video in at 13.9 Mb!
I don't profess these to be the absolute best, Nor am I saying that there are not tools to do this work for you– but so far so good (one video!)