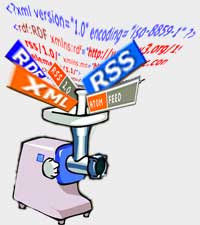 I am at the same time honored and deeply scared that a lot of people use my Feed2JS tool created like in 2003 or 2004 for helping people embed RSS feeds in their site using cut and paste JavaScript.

If my stats are right, in the 6 hours since the cache was cleaned out (daily), 45,000 some unique feeds have been run through here, which is about 60 feeds per minute.
I hardly do anything to the code and I hope it does not blow up on anyone. There may have been some issues since the time I was trying to implement a new parser (which killed the server which for years has been kindly donated for free by the kind folks at Modevia Web Services)…. in restoring it I may have put a deprecated version of MagpieRSS; I just re-adjusted and the old FeedMachine seems to be working.
For the last few years I had the source code hosted at EduForge but as there were some rumblings of changes there, and that despite my immense depression over being Wave Rejected, I am a Google Fan Person— so I have moved the Feed2JS code to Google code at http://code.google.com/p/feed2js/.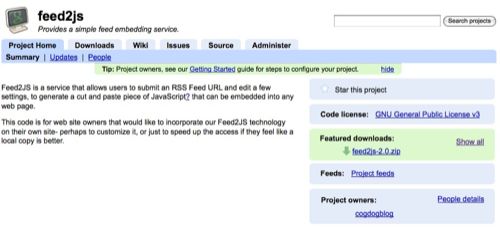 I am still learning how to set things up there, and I don't have source code established as check in / check out basis (like it matters, no one ever jumped at the chance to tinker in the code when offered). But since my contact info is not exactly front and center on Feed2JS site, I prefer if people use the Issues submission tool at the new site to let me know of any problems (no guarantee I can do much, but I will try)
The post "Feed2JS Source Moved to Google Code" was originally cracked open and scrambled from a rotten egg at CogDogBlog (http://cogdogblog.com/2009/10/feed2js-google-code/) on October 3, 2009.