I've made my share of snippy jokes about the silliness of foursquare, of tweeting evert burger joint you visit or your latest new badge. That's not to say there is not some potential in this geolocation app, it may just be waiting to be found.
But take it on a simple level- you carry a device around which can sense where you are, and using foursquare (or its variants) you can "mark" your locations, see others that have been there. I put aside my criticism to last month as we learned from Beth Kanter how some museums were putting it to use (or see this strategy by a NY theater group and more ideas for museums), especially again, the notion of "listening" in social media.
So check this out- in two steps you can generate a google map of your foursquaring.
I had to try.
It works (click for larger view or see it in Google maps)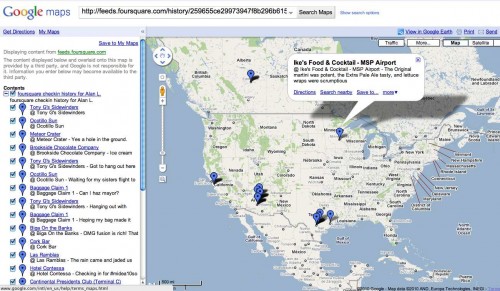 What it places in a bubble is simple- the name of the place and whatever notes you added. One might bend this as a field mapping project- check in diferent locations in a city, and comment on the architecture? Create a map-based story? I don't know. I could save this as a MyMap and add more content to it (e.g. edit the bubbles with my photos? notes? field measurements?)
I see foursquare as used still a bit silly. It's bad you can check into a place when you are not really in the vicinity (I did a back check in from Phoenix to a place I was on a previous trip). And now that you can check in anywhere, at airports you see locations like "Gate 39", "Gate 38", "In the Air". I think I am mayor of a baggage claim, and I even joked about trying to be a mayor of a key place at the Phoenix Airport (I took some fictional liberty- Joe B is not mayor of a stall) (Neither am I) (But there is a Joe who is mayor of Ocotillo Sun, the bar in terminal 2).
This is the pitfall of judging an app, a tool, of the way you see it being used, and not looking a bit broader at the way it is not being used.
Look at what foursquare is offering for feeds – your history as RSS (subscribe to updates), KML (do stuff on maps), and ICS (do stuff with calendars):
The foursquare feeds system allows you to subscribe to RSS, KML and iCal feeds of your data. The feeds platform is still in development and is subject to change at any time (sorry!).

We've made the feeds available (using private token URLs) to make it easy for you to construct simple frontends like WordPress plugins and Dashboard widgets without having to use our regular API.
That smells of potential there.
And slap my palm on my head- I had no idea you could just past a KML feed into the search box of google maps and generate a map like this. Hmmmm. Hmmmmmmmmm. Hmmmmmmmmmmmmmmmmmmmmmm.