I cannot help it.
I have tried (somewhat, well rather tepidly) to embrace the Facebook fervor (because <scarequote>Everyone is there</scarequote>). I do not begrudge all the time people spend there (well I do a little).
It's my instincts that keeps my fur up, and a faint acrid foul smell that I detect.
Facebook seems like Augustus Gloop as it just keeps sucking up more and more of the internet inside the blue wall from which no other web service can ever see again.
Like this.
On the Facebook iPhone app is an innocuous labeled "Sync". What does it sync? Well I peeked.
It says:
Add Facebook profile pictured and links to contacts
That seems reasonable- I can get people's pictures in my iPhone contacts, not super critical, but it sounds reasonable.
What you likely miss noting on this screen is the bi0directional arrow between MY contacts and the mysterous blue shadow profile Facebook monster:
Perhaps there is @FACEBOOKHULK tweeting MMM FACEBOOK HUNGRY; FACEBOOK MUST EAT MORE DATA TO FEEL GOOD. NEVER FULL, MORE DATA PLEASE FEED FACEBOOK NOW.
At least there is a warning: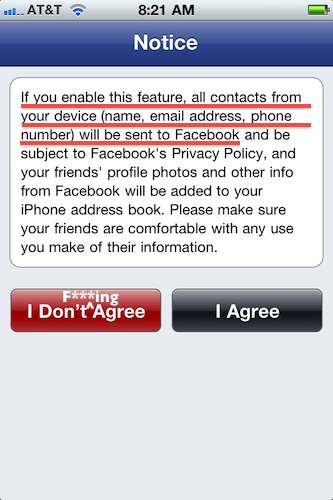 It's more that all your contacts "will be subject to Facebook's Privacy Policy" – Why the Frack is Facebook sucking in all my contact data?
Read it again.
All contacts from your device (name, email address, phone number) will be sent to Facebook.
I am usually the last one to get torqued over giving up my data on the net- but this is a different case- I am agreeing to give up all the contact data for people who do not know I am doing this. It is insane and everyone keeps liking and granting privileges and mooing along as the FaceBorg eats the internet.
Don't say I did not warn you when the Zuckerbook eats your free and open and trust based internet. I will be the drooling old maniac on the corner ranting and raving about the Internet that Was. You will ignore me as you tend to your Farmville status.
UPDATE: For Alan Wolf, by request, place this on your web site today
The post "Facebook Will Take Every Opportunity to Reach Down and Suck Up All Your Personal Data" was originally pulled from under moldy cheese at the back of the fridge at CogDogBlog (http://cogdogblog.com/2010/11/facebook-suck-your-data/) on November 24, 2010.