In preparation for my upcoming long road time, I've been organizing some audio books to fill some of the time/space. There is a veritable bag of gold from the Internet Archive. I also found a decent selection of free (public domain) Adventure Audio Books.
A small problem with them is that these are really a set of audio files (duh)– so if you are say, listening to them on a long road trip, you have to remember where you left off. However, I've found using the $9.95 Audio Book Builder app (Mac OS only), its easy to turn a pile of audio book files into an .m4b which plays on iDevices as an Audiobook (meaning it remembers where you left off and has handy chapter navigation hooks).
So far, I have converted the following from their freely shared audio file versions to Audiobook (m4b files), and am sharing them back at you.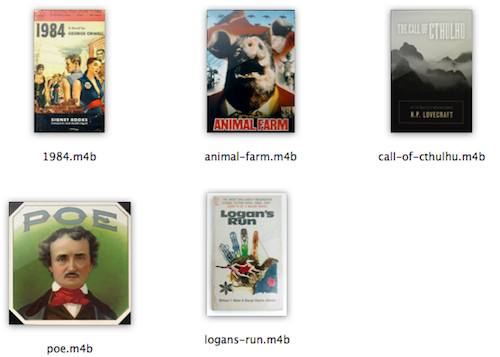 I also have about 20 CDs for Life, Keith Richard's autobiography (read by Johnny Depp) that I plan to chug into m4b format soon (sorry, can't really share them).
PS- I have found Poe is hard to listen to while diving! It required a lot of concentration…