After seeing a few tweets today from @NancyWhite, @BryanAlexander, and @injeniuty about the ideas improv, I thought it was time to give a tryout to running PechaFlickr in a Google Hangout.
Huh?
PechaFlickr is a little experiment I built last year that combines Pecha Kucha with the improve act of Battle Decks all drawing random images from flickr.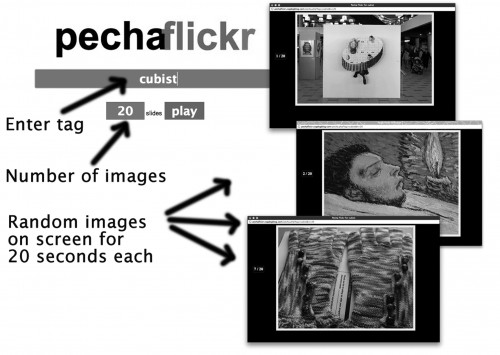 A few clicks back I was curious if it could be done in Google Hangout, with the new extended features of sharing screens. I did a brief test with Giulia Forsythe and it seemed doable. So I threw out a soft invite tonight and had a successful fun play with Nancy White, Giulia Forsythe, Scott Lockman, and Andy Forgrave.
To make it work, I set up a mystery tag (since I was the only one to see it) in the advanced screen (so I could pick 7 slides for 15 seconds each). Once the pecha flickr window launched, I had to jump quickly back to Google Plus, click "share my screen" and select the proper window. The participants said the images came up in a reasonable time; a key is for them to click the shared screen so it did not get replaced by the video of whomever was speaking. There was a little bit of lag, so I would suggest nothing less than 15 seconds between slides.
It seemed to work well, and we took some turnes each running through a round solo. Giuila mentioned the framing rpompts that jennifer Dalby had listed on the pechaflickr league wiki and we agreed that it was more interesting to have an over arching theme to set the stage for the improve (e.g. "a message from someone in the future", "report from a conference", "postcard to a friend".
But what really worked well was when we did it in rounds; rather than one person doing an entire improve, we each took a slide, and "handed it off" to the next person (according to how our videos were stacked). Now this was really effective, since we were all participating.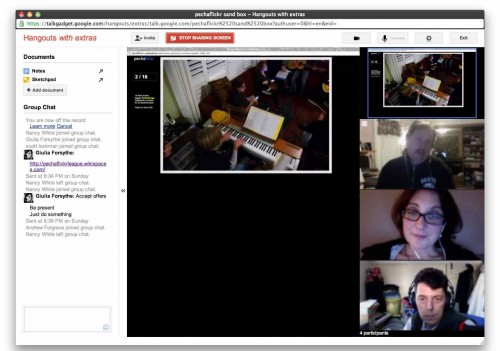 It is too bad that Google Hangouts dont have an archiving capability (or too bad if I missed how) because this was a ton of fun.
In addition, I am still having some issues where the slide show hangs with a blank white bar instead of the image, which eventually hangs the slideshow. I am working on figuring this one out. I can also see that I am still not getting enough randomness in the selections and will be investigating that.
But this did prove we could run live sessions in Google Plus. Look for more soon. Or heck, just do it yourself!