cc licensed ( BY ) flickr photo shared by cogdogblog
It was during my visit to Calgary that Doug Symington and D'Arcy Norman suggested I make some tour t-shirts for my 2011 Road Odyssey — but I never really got around to it. I thought I would end up with some ugly cut and past photoshop mish mosh of dog heads and maps.
Given that I have now the very first CogDog 2011 Odyssey t-shirt, a iron on transfer prototype designed for me by Giulia, it was time (tonight) to make them available on Cafe Press. This is my first time set up, but think I have everything in order, including a decent selection of men's and women's styles, colors, etc.
You can find them all at http://www.cafepress.com/cogdog/8404539 – and all set for sale at cost, no profiteering here.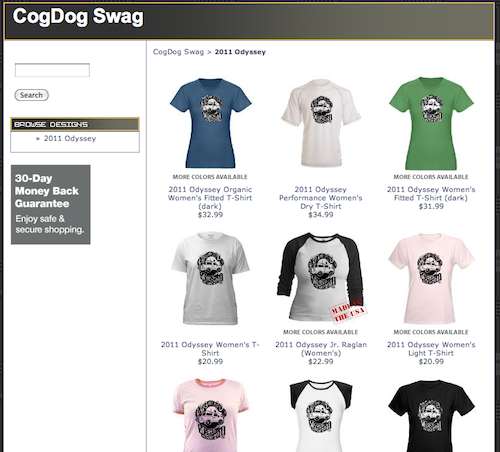 The CogDog Swag is now open, a bit late for holiday gifts, alas.