Part of the weekly recaps of ds06 we are asking our participants to do is a letter home from camp…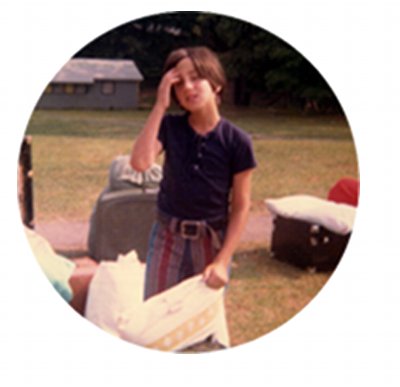 Dear Mom and Dad,
Wow, what a first week from Camp Magic Macguffin, it is a lucky thing I packed me favorite, stylish pants. It was one thing to go away to Camp Glyndon in the 1970s… I do remember that the first day I went I was miserable, it was rainy, and I just wanted to go home, but by day 3 I was locked in, and went back for the next 8 years.
In fact, I stopped by what was camp just last summer, and those first bunkhouses are still standing

cc licensed ( BY ) flickr photo shared by cogdogblog
But this is now. It was a ton of work that Martha and I did in our role as camp counselors, and we had fun sharing camp in our first series of videos. Martha has more experience with summer ds106 than me, and her wizardness with setting up the web site was amazing. I think she is suspicious that I seem to have more communication with the new camp owners, which is even made a tad worse since they insisted I fly to Canada for an orientation to the company the week that camp started. The CVI people are nice, but they did send me out in the woods as some sort of test. Weird.
Okay the really exciting stuff is we have 12 UMW campers, and with the grand help of Tim the Hippiest Hoster, and the new Domain of One's own project, they all have their own domains and are on their way to being blogging away this week.
But the really killer stuff is having the active participating of our open online participants, we have a good group of newbies and returning ds106ers, especially our elite cadre of counselors, especially ol talk about myself in the third person Hatchet Jack and that Sassy Zazzy who already started her own mashup audio project before camp opened. That's cool, but I am worried she does not trust me. And we even have people coming to camp from Ghana, how wild is that?
So in week 2, we will be working hard to get our campers blogs going, more daily creates, and some introductory activities to storytelling.
They are all eager or are already playing in Minecraft, a place I am so novice, that I have some homework to catch up to.

cc licensed ( BY ) flickr photo shared by cogdogblog
And thanks again for sending my footlocker (and remembering to put the extra lock on it) and using the CVI shipping services (sorry for the scare the black van must have given you). I know it was heavy to ship, but I need those devices inside.
Talk to you next week,
love,
Alan