She did not want me to make a fuss for her birthday, I could not follow instructions. With some help from my/her friends, today we held a birthday party for Giulia Forsythe, featuring bits of art like this from Jason Toal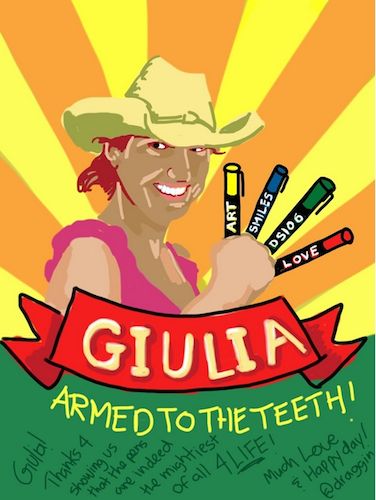 I was inspired of the epic video Dean Shareski coordinated last year for Alec Corous. That was a lot to do! I decided for something a little more open and less work on my part, I set up an open Google Doc and invited friends and colleagues to add messages, links, media, and what a message it turned out to be!
I nearly broke it from the start. When I set it up a week ago, I decided to DM the links to about 30 people, expect the first one I sent to Dr Garcia I goofed and sent it public! People were already looking, and I was deleting tweets, zapping the doc, and setting up another one.
I started out trying yo do some Giulia like doodling in my own copy of SketchBook Pro- except I was horrible at using the app. This gives me even more respect for how fluid she makes it look. SO I did some quick drawings and opted more for photos (and it was not til this morning that I realized what a bone headed boyfriend I was as I sketched out the letters of her name with a typo).
Anyhow, we got a great collection of images, message, links to audio, video, etc. Thank you friends for joining in.
To make it live today, we commenced a live broadcast on ds106 radio. I had all the moving parts going with my LadioCast set up so I could mix tracks form iTunes (the audio that folks shared, songs that GNA recommended, some Giulia talk from my archives) mixed with a group Skype Call where we had GNA, Chahira Nouria who sang Happy Birthday in French, David Kernohan, who played impromptu sonds like :Hey Joe" sung as "Hey Giulia", original songs fromm Bryan Lackson and Leslie Linballe.
It was a blast! And I managed to get it archived (NiceCast was barking baack at me, so I turned on the iPad and used Fstream to record):
ds106 birthday party for @giuliaforsyth
Thanks everyone, again, check out the web's birthday card for Giulia She is rocking 2012:

cc licensed ( BY ) flickr photo shared by cogdogblog