cc licensed ( BY ) flickr photo shared by cogdogblog
It's been a really long long long time since I can even remember spending time with my Aunt Dorothy. She is my Mom's younger sister; she lent so much to the meeting we had a year ago with the presiding rabbit (oops it was not a rabitt!) prior to Mom's funeral. She was able to, like none of us as kids, to be able to talk about my Mom.
I am painfully aware of the rapid declining number of elder relatives I have left (Mom's eldest sister, my AUnt Ruth is 90, and still very lively) who lived in the era of my Mom. And what happens when it falls down on my and my sisters to carry the stories? That is a sobering thought.
My sister, brother-in-law and I met at Aunt Dorothy's house mid-day. It probably has been 40 year since I was at that house. I do not remember it all beyond the dachshunds they had and that they had the game Mouse Trap in their basement. We did not have that game at home.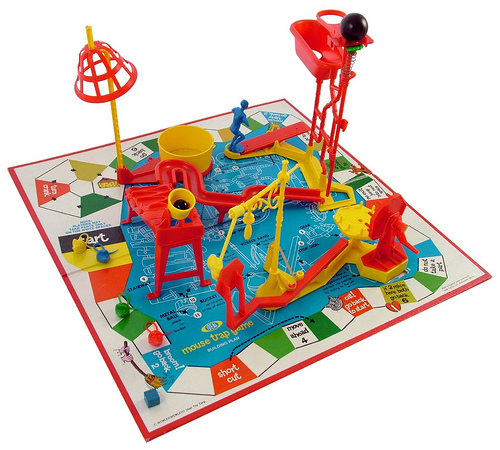 Aunt Dorothy has an infectious laugh, even for my most lame bit of sarcasm. Her voice reminds me so fondly of Mom.
After we visited Mom's grave in the old Baltimore Hebrew Cemetery, way over on the other side of town, I asked my Aunt to relay some stories about my Mom so I could record them. She could not say anything that was not complimentary, and a lot was funny (her lines about their their of breast size). Aunt Dorothy provided some gems of story I had not heard before, nothing super size important, but it make me think about how many bits and niches there could be filled of a person';s life.
So I have this bit of audio (it is recorded in the car, so there is some noise and directional discussion);
There is the story we know of ourselves and the story others have.
The other tidbit about my aunt is that she was an artist. We had this abstract painting she did hung in the basement of our family house in Baltimore:

cc licensed ( BY ) flickr photo shared by cogdogblog
It was never certain what it was. A bent screw? This painting was done by Mom's younger sister, and resided in the basement of our house as long as I can remember,
No one was ever sure what it was- a twisted screw? A soldier and Napoleon saluting? Any ideas?
When we cleaned out Mom's house, we found it in a closet. I have to admit we neglected to call Aunt Dorothy to se if she wanted it. It may still be available at a Goodwill in Fort Myers.

cc licensed ( BY ) flickr photo shared by cogdogblog
I have a incoherent notion of cemeteries. On one hand I am fascinated by the fragments of life stories they represent, and I have took that curiosity to ones from Vermont to Sacramento and points in between.
But in terms of my own family, I am grateful for this place as a marker, but have not much feeling that my parents and brother are "there". The markers are for us.
When we returned to my Aunt's house, my sister and I were talking about a lunch plan. A monarch butterfly flittered by, nicked by brother-in-law's head, brushed their car, and then flitted over my truck.
It's just a butterfly. There's millions of them.
How can I not attach meaning?