cc licensed ( BY ) flickr photo shared by cogdogblog
It's been almost a month since the Open Education conference wrapped up, this is a bit of summary of the experiment of using a PirateBox as a conference activity. The idea as cooked up with Scott Leslie, was to experiment with an open source sharing technology. As outlined on the conference web site:
Between twitter, blogging, flickr there will be plenty of public sharing of the experience of Open Ed 2012. This is good. We are also seeking new ways of documenting the conference experience through the device created by David Darts, the PirateBox. which turns a local space into a communication and sharing network.

Using open source technology and under US$30 in parts, the PirateBox creates a local, open wireless network. Upon joining this network, you are not connected to the internet, but a web server running locally on the box, which is set up with simple tools for uploading and downloading files, synchronous chat, and a message board. All communication with the PirateBox is anonymous.

This technology has potential and implications for conducting networked projects where the internet is not viable or for a way of sharing content that is localized.
For a few days before the conference, during the conference, and following, we provided a few prompts for ideas for content to be shared:
The box itself, was fit inside a curious plastic toy box, and was set up in the main lobby area where people gathered, and was accessible during the conference, plus two unconference demo sessions provided people a chance to learn more about how it worked. Tony Hirst wrote up a detailed and illustrated blog post.
For a summary of what was collected:
10 Audio Recordings
2 Documents
4 Music Recordings
68 Photos
6 remixes
7 videos

cc licensed ( BY ) flickr photo shared by cogdogblog
As our agreement, the TreasureBox has been mailed back to Scott to as part of the conference archives, I am not sure what, if anything will come of it, but the entire web structure that is on the box can be uploaded to a web site and provide access to all the media.
Until then, I am providing the archive on my site, for the 0.5 people that might be curious.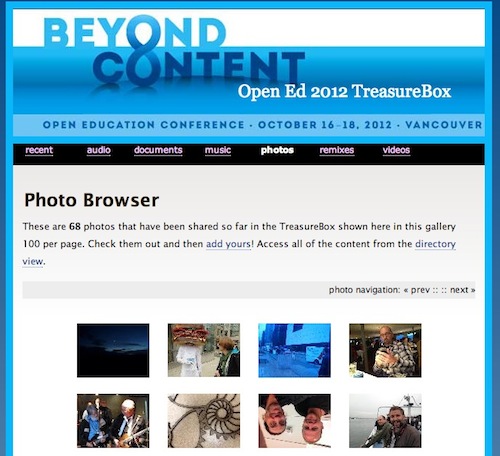 Now for this build, similar to my original Storybox, I've built a web structure to organize the content- the default is all the media sits in one directory. For my approach, I offload all of the media that gets added, and run it through some scripts to process, and optimize. I found that big files (3000px wide images, full scale video) can be slow to access and view, plus I wanted something that would include icons for previews.
My scripts are a combination of php scripts and one shell script that I run on the local web server on my MacBookPro.
I have written up some documentation on these steps which looking at it now, appear rather byzantine.
As some final reflection…
There is a lot of things going on at a conference, much of it during the breaks between sessions. Most attendees are focussed on the sessions, so expectations for them to do these extra bits should be kept realistic, unless it is folded well into the conference planning and announcements.
We did get some interesting items, and much of it I have no idea who submitted it. We have among the remixes, two mashups of Gardner Campbell as an album cover, two line tracings of other shared photos, and 2 animated GIFa.
If I were to do it again, I might go the simpler route of the single uploads directory, IN a way, the original purpose and design was explicitly simple (and messy).
This was a wonderful opportunity to try the PirateBox out in a public space. I am eager and interested in doing it again, so if you run an event or a conference and want to set one of these up, it is a service I can offer or just point you in the right direction. I found it very easy to build with the newest software, and all of the parts can be found on Amazon.com (with the battery and $5 for the toy box, the costs was $84).
Do you want a treasureBox, conferenceBox, MakeUpYourNameForABox? Let me kno! I can help.

cc licensed ( BY ) flickr photo shared by cogdogblog