cc licensed ( BY SA ) flickr photo shared by The Daring Librarian
One of the things the veterans of ds106 radio miss with the new station software is the ability for the @ds106radio twitterbot to recognize when a live braodcast has been started. I have full confidence Grant Potter will sort it out.
Tonight, I was fiddling with a live broadcast from my hotel room in Japan, just playing some iTunes music via Nicecast. Rowan Peter called out for a voice over, so I switched over to my preferred Ladiocast mixer sert up. I was curious though, there is a setting in Ladiocast I do not see in Nicecast, to edit the metadata being sent out with the stream. Usually it's the song info from iTunes, but there is a setting under Ladiocast (Streamer 1 -> Metadata) where you can update/override what is being sent out.
So I tried making a new setting here: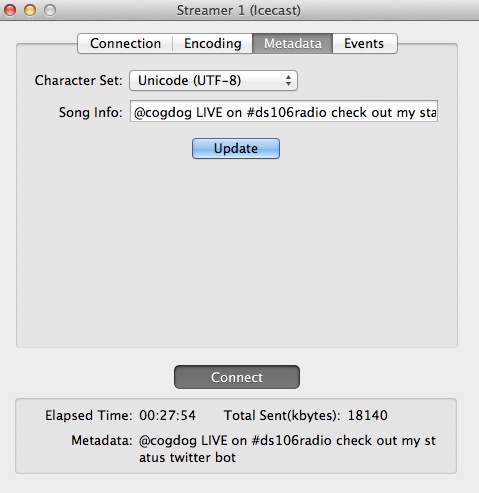 So if I out in a status with LIVE in it, at least I could get the twitter bot to message it:
@cogdog LIVE on #ds106radio check out my status twitter bot

— DS106 Radio (@ds106radio) March 9, 2013
and for fun, I changed it one more time
@cogdog LIVE on #ds106radio demoing a metadata annoucement

— DS106 Radio (@ds106radio) March 9, 2013
Of course, this is not a viable solution, as only a few people use Ladiocast and it is manual, but at last it does do an announcement- I am guessing ti changes the feed that the twitter bot is checking (?)
This is your regular arcane technical note, more to me than anyone else.