We here at CogDogBlog Enterprises, Inc Ltd have a clear policy and standard for advertising.
This is a serious blog.
On Fri, Apr 4, 2014 at 1:03 AM, Xxx Xxxx wrote:
Hello,

I'd like to inquire if it's possible to purchase advertising space on
your website.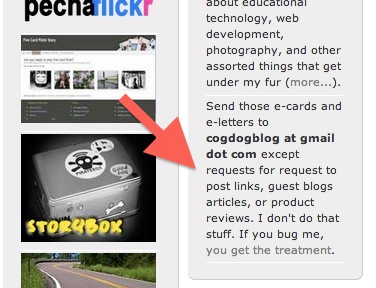 As you can readily see from your thorough inspection of my site, advertising is a key component of my online presence.
If there is any space available please let me know and we could discuss
further details.
Space is limited. Standard prices are $10,000 per link per month.
I am serious.
I am not.
I do not put ads on my site.
Looking forward to your positive reply.

Best Regards,

Xxx Xxxx
Our finance manager is waiting on your payment. Thank for you doing business with CogDogBlog Enterprises, Inc Ltd. You shall not be disappointed with our results.