People are out there Disrupting All Industries, Fixing Education, Saving the Environment. I salute the big visions.
Me, I like to operate at the other end of the spectrum. The tiny things. Here's three from just today that may not mean much for changing the world, but are significant to me.
(1)
I've written several times of a special friend I have never met, Claudia, who lives in Argentina. She was the one who sent me a special message following my mom's unexpected death, with the words of a Spanish Poet describing dreams as a place where "I only know I know a lot of people I have never met."
Claudia transposed the words to describe the internet, as a place of having people we know but have never met.
Out of the blue she shared a very special story of a conversation with her Mom. I won't share it, nor my appreciative reply.
Just a personal email, out of the blue. That went straight to my heart.
Hence our tweets:
@cogdog Coincidence? I also got an email this morning. Lively Web 0.0 small, small world.

— Claudia Ceraso (@fceblog) October 20, 2015
Just one small thing.
(2)
In 2011 I recorded and blogged stories from my cousin Lorrie about her experiences growing up as part of a traveling carnival of a family high diving act. In 2013 a commenter on that post shared photos that his father had taken of Lorrie's dad in "the Act".
But today, another comment, likely coming form people searching on Billy Outten's (Lorries' Dad) name.
When I was very young, I saw the Billy Outten "fire dive" at the Lions Club fair here in Murfreesboro, Tennessee. To this day, it stands out in my memory as one of the most exciting acts I ever witnessed. I have been involved in country music for many years have seen many great acts at fairs I have worked, but his topped them all. Just wanted you to know that I am still an admirer. Please reply if possible.
What do I do besides publishing the comment? Well I email my cousin, and give her the commenters email, so she can choose whether to respond.
A second small thing.
(3)
In response to a tweet about dogs on the beach I see this in my notifications: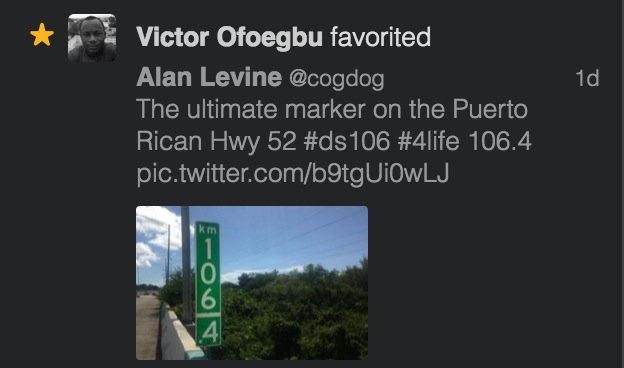 Victor was one of several ds106 participants we had (was it 2012?) who somehow found this class from where they lived in Ghana. Having a corner of ds106 going on with students in Africa was pretty heady.
That's pretty cool…
Also in the small but interesting department, nice to see our #ds106 friend from Ghana @ofoegbuvictor keeping tuned to my silly 106 photos

— Alan Levine ? (@cogdog) October 20, 2015
A third small thing.
---
None of these three are going to make the world a better place, though they sure make my world a better place.
These are the things I live for.
---
Top / Featured Image credits: flickr photo by cogdogblog http://flickr.com/photos/cogdog/8263880921 shared under a Creative Commons (BY) license