Originally published by me at Alan Levine – Get CC Certified (see it there)
This week we are launching a new effort to get the word out for and to draw in participation to the Creative Commons Certification project.
As an idea that emerged from our recent team meeting and thinkathon, each week we will initiate an activity via twitter via the #CCquest hashtag. The plan is to issue a new one each Wednesday at 10am PT / 1pm PT / 9pm GMT with a blog post here and on twitter.
It might be to share to add to a collection of resources we are building for the certificate, to provide feedback on the certification design as we build it out, to share a story of applying Creative Commons, to express gratitude to someone's tireless work as a "defender of the commons", and more.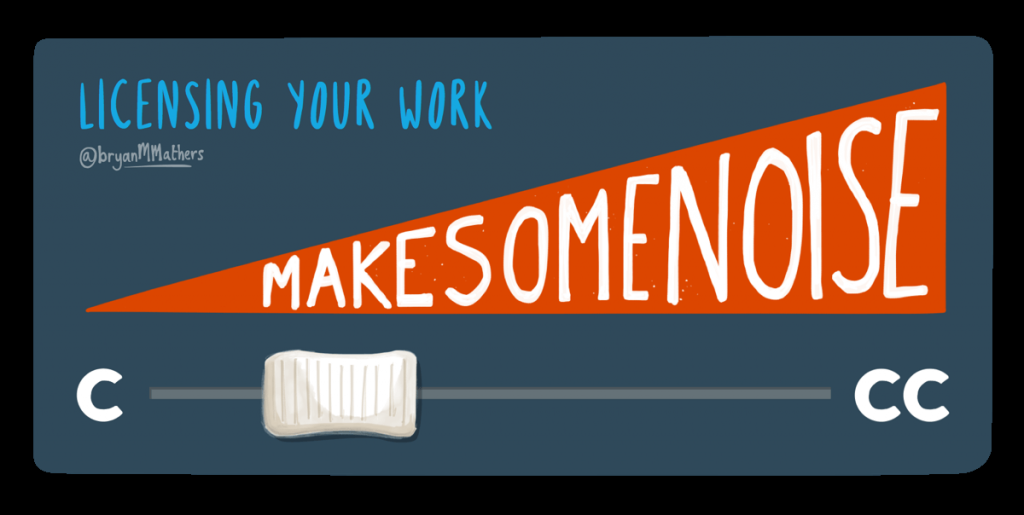 Graphic by @bryanmmathers http://bryanmmathers.com/ shared under a Creative Commons (BY-NC-ND) license
We hope you join us in making some twitter noise;-)
Why "Quest"?
We are experimenting using an approach I was part of developing for the open digital storytelling course DS106, namely the Open Assignment Bank. This is an alternative to the kind of course where the instructor designs specific assignments that all students must do, In DS106 a learner chooses from a collection of assignments in the bank for a topic, which are ones created by not only the instructor but other students.
In our discussions, we went around in a few circles trying to figure out what these would be called in a Certification process. They are no "assignments", but perhaps "tasks"? "Challenges"? "Activities"? We ended up on "Quests" but are not firmly fixed on it. Because this is a project developed in the open, as a kind of potluck style meal, we are listening to your ideas too.
(As an aside, after seeing a Canada Post truck with some new stamps, we also considered #CCTrek as a hashtag. But there are problems with possibly tying in a campaign to a popular culture reference).
So what can you do?
Follow the #CCquest hashtag on twitter. Better yet, reply, retweet, and call others in to participate.
Tweet us questions, ideas, resources. But please, do not ask us license questions! CC has a place for finding answers.
Sign up for our email newsletter. We are collecting contact information for people interested in this project and as we begin to release the first designs, we will share updates and more news via email. Sign up now.
Following #CCQuest Activity
All weekly quests will be archived on this site at https://certificates.creativecommons.org/category/ccquest/.
We are tracking twitter activity with a Twitter TAGS worksheet where you can see a summary of activity and explore a visualization of the conversation. Being a newly created tag, activity is low now with few connections, but we expect to see the shape of the conversations to grow each week:
We hope to see you connecting with us via #CCquest.
---
Featured image: flickr photo by mikecogh https://flickr.com/photos/mikecogh/5941302441 shared under a Creative Commons (BY-SA) license — it is really fun when you search for an open licensed photo and find one used by a friend… Hi Michael!