In the second week of Networked Narratives I introduced a small visual assignment. My intent was to ask students to use their cameras not their google, and also to do so a bit more deliberately than snapshots (the assignment links to resources under On Becoming Better Photographers).
With the alchemy theme in mind, I asked them to take photos of the four classic elements (you know the, right?) — fire, air, water, earth. The first four are literal, like a flame, an empty glass, a puddle, etc.
Then I ask for a second set which is more metaphorical or suggestive. That's where the creativity comes in.
I included in the post my own photos from the past, but since the intent was to take new photos, and this is a Dog Blog, we believe in Dogfooding. Here comes my own photos, all taken today:
The Four Elements (literal set)
Fire is easy, it's been really cold this week (barely above freezing) so I have the wood stove going all day and into the night. Yes, people, this is the lesson where you might grasp that I live in the part of Arizona (like half of it) that is not warm Sonoran Desert.
Earth too is easy, I studied Geology as an undergraduate / graduate student. From my front rock garden (which today I had to chip out of ice), this is a chunk of the Zoraster Granite that comes from the bottom of the Grand Canyon, something I hiked our when I was a grad student. There is some irony, because it is sitting atop a sandstone which is the local bedrock. This is Coconino Sandstone which in the Grand Canyon stratigraphy sits quite a bit above the Pre-Cambrian Zoraster. Ha Ha, geology humor.
Air is probably the most challenging element — as you really do not see it (unless you live in smoggy city). Take a photo of nothing? The space in the sky will work, the atmosphere. You would definitely notice air if it were not there.
Water at the flick of a wrist? Do you ever marvel at having on demand water by turning a simple knob? Do you think about that? In other eras or other parts of the world know, people have to walk to a well and carry their own water home in jugs. We have it without even considering what it takes to flow (Go read Cadillac Desert).
The Four Elements (metaphorical set)
I wanted a theme to connect my second set, so I looked for images that represent something that contains or holds or includes the first.
That fire burning in the first set is inside the wood stove, it not only holds the fire (more safe than having an open bonfire in my living room) it also radiates the heat efficiently. I even today toasted some squash seeds right on top of it. There is satisfaction because the wood I am burning I collected with my neighbor in fall, I split and carry it. The ash goes into my compost, then in the Spring that goes in my gardens, and it all does a full circle thing. Both the flame and the stove are part of something bigger.
What holds rocks? A mountain! I'm not sure this one has a name, it's an outlier from the edge of the Mogollon Rim between Strawberry and Pine, AZ. I walked there today, and liked this effect if distorting the mountain through an icicle. That mountain, holding those rocks, is quite a bit stronger. But not strong enough to withstand the forces of erosion and the patience of long, deep geological time.
What holds air? We respirating animals do. Maybe not long, but regular, we take in the gas called air, extract some oxygen to flow into our blood and send out the left over carbon dioxide that trees and plants can use. It all first together.
What holds water? Plants are designed for that too, and what could be ore well designed than a cactus? It has to stand years of drought, extreme heat and cold. Cacti have an ingenious number of ways to flex to store water when its plentiful, some grab droplets from the wind.
There it is, my four elements that hold four elements.
The balance of four is strong in this place I live. I'm relatively near the place where fours states meet in one spot. In Navajo culture, the Four Sacred Mountains are important.The four cardinal directions factor in as well with four sacred colors.
I've used this before in a DS106 Daily Create, taking a goofy 1996 photo of me sprawled across the Four Corners with the four colors chart aligned with the four states…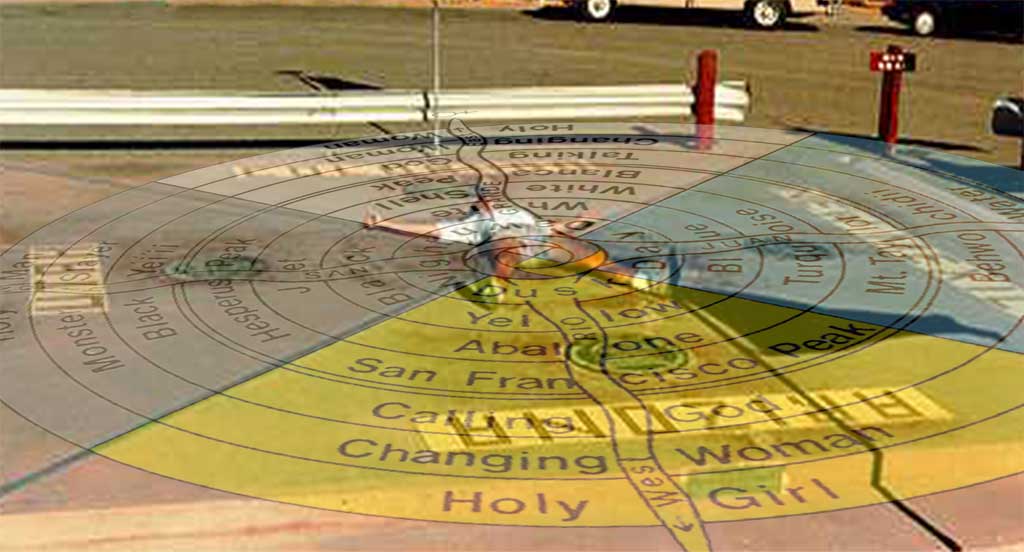 That too is four in four.
We are having people tag their blog posts for this assignment as 4elements so we have an aggregation of all responses. Do yours!
And guess what, there are three others there now– so mine will be FOURTH!
It's fours all the way down.
---
Top / Featured Image:
"Gradual change Quadrilateral Image (Red)" Wikimedia Commons image dedicated into the public domain by ?? using CC0