After reading, Quentins nicely shared post of the WordPress plugins used on his site (and more shared in the comments), I thought, "Great idea! Let's go into borrow mode!".
And it made sense to build one of those, um, colo– colofuns, coloph…. oh what the heck, Blog Bits, that describes some info about what's under the hood here at CogDogBlog.
To re-iterate, my plug-in pile:
Some of these were newly added, and after some rummaging arouund other Word Press blogs, like the totally geeky cool named 0xDECAFBAD who truly has a colophon. It was there I saw the Steve Smith's Tiger Style Administration plugin, which reformats that old blue WordPress admin display to something more modern, as described by the author
After working with WordPress for several months now, I felt the Administration area needed a little "freshening up". I wanted the utility to feel more like an application, and less like a traditional website.
So your panels can go from: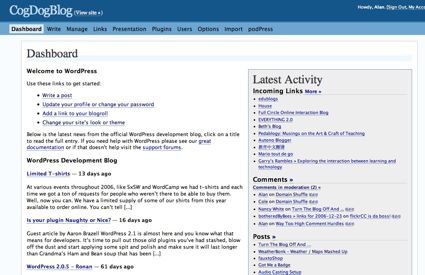 to this: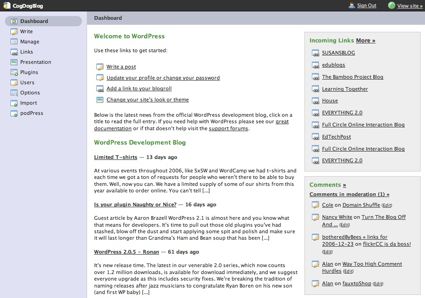 So maybe this is eye candy, and no one but me sees this interface, but after all, it is my blog ;-)
I do have to clean up and better organize m categories, I've not been the best filer, and its likely time to consider moving to Ultiamte Tag Warrior so I can play folksonomy at home, and have a cool tag cloud.