It was March 27 ordered and on its way March 30 and due to arrive April 4.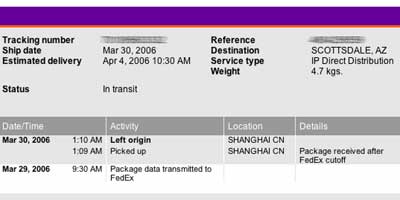 From China to Scottsdale in 6 days. I knew the thing was fast, but zowie!
The post "From Shanghai To Scottsdale" was originally slapped on the butt by a cigar smoking doctor yelling "It's a post!" at CogDogBlog (http://cogdogblog.com/2006/03/from-shanghai-to-scottsdale/) on March 31, 2006.