A week from tomorrow is my last day at Maricopa. I'll turn in my badge and key and leave the building.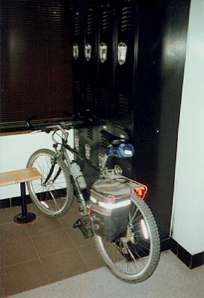 Today, I cleaned out another place I've occupied for a long while — my cubby in the downstairs locker room. For the last 10? 11? years, I have occupied locker #1 here (top right in the photo), used for my bicycle commutes to work. In the early days, it was an economical and fitness thing; as my wife and I lived in a small townhouse and shared a vehicle as finances were tight. I rode every day for three plus years, cold mornings in december, furnace blasts in the summer, wind storms, glorious spring flower days. That might be some 800 showers gone by, but who is counting?
With time, salary advances, a house, two cars… the bike rides waxed and waned to none to a few times per week. Still, it was always a great way to spend time thinking, generating ideas, rather than gripping the steering wheel in a death grip, cursing traffic, etc.
But starting April 10, my daily commute while working for the NMC is going to be about 18 feet down the hall (okay make it 35 to the kitchen to make coffee).
And for another story… the other day, as I came in the front lobby and headed up the stairs, I heard the sweet southern twang voice of Cindy, the receptionist, who answers the main number for the Maricopa system.
"… yes, he is leaving the distict."
I paused on the stairs, casually wondering if she was speaking about litt ole me.
"Yes, he's going to work for the … New Media, Constor, um… Conservi, um.. Contorio.."
I yelled down from the top of the stairs "CON-SORT-I-UM"
"Consortium!" she says.
Now who was not calling me to ask?
Oh well, cya later.