And here I thought Spell With flickr was the best thing since milk bones– that 's nothing compared to geoGreeting, which converts a string of text into one built form letters formed from the shapes of streets, buildings, landforms found from images in Google Map satellite views.
You just type the message, and geoGreeting generates a unique URl you can send as a greeting
Try my litte message of instructions for what you should do these evening:
http://www.geogreeting.com/view.html?z6TtTou+p-v29x-+lG2
And when you watch it, the letters pop out one at a time, spelling the message before your eyes, and showing where in the world they came from.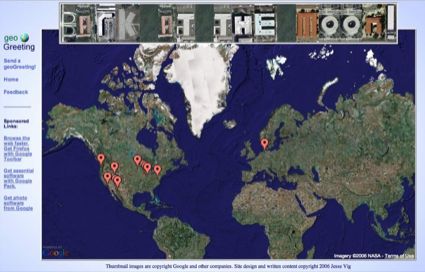 A linktribution for this great find goes to Dean Shareski
The post "Buildings That Spell" was originally pulled from under moldy cheese at the back of the fridge at CogDogBlog (http://cogdogblog.com/2006/11/buildings-that-spell/) on November 18, 2006.