Of the things I hang on my personal Google home page (well you cannot see it beyond a snapshot, but, it is how you can create a mashup of content from many sources, feeds, photos, gmail, search tools. totally customizable), my favorite is the flickr photo wallet module.
Very simply, everytime you go "home" you see a random photo from yours (or any other) flickr account. I've tried a few, but most of them do not reach back to all of your photos. So my memory game is to glance at the page when it loads and try to remember where or what the picture is from (I recently crossed the 2000 photo count, no big compared to others, but goes back to 2004).
This one stumped me- I could not tell what it was, where it was from.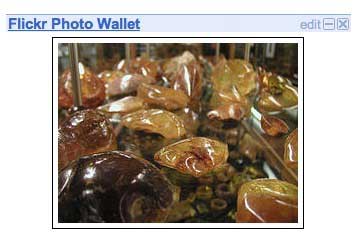 Was it insects? Sushi? Some bad conference buffet? Dog doo?
Nope- had to check the original it was amber like "gum", hard mineral like products from New Zealand Kauri trees, from my visit to the Kauri Museum in 2004.
So this is maybe a stretch, but a collection of mystery photos posted to a particular flickr account, tag, set, could be a fun educational activity, where a random one is syndicated to a page, be it this way, or via a flickr badge.