If you see a van driving around your neighborhood with a roof mounted tripod hoisting a big black ball, smile as it may be folks from Google snapping photos to appear as part of the expanding Street View capability of Google maps.
According to Boing Boing, that is how the 360 street images are being gathered, a special 11-sided camera. The word is that google uses a van rather than a black beetle: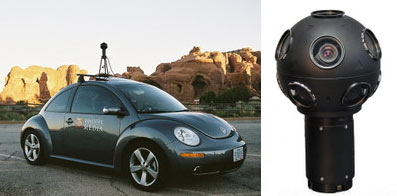 image from Boing Bong, May 31, 2007
I used this as a demo in Australia for my "Being There" presentation; back in September I found they and added parts of downtown Phoenix, and I typically pulled up at the corner of 7th St and Jefferson to zoom in on Chase Field baseball stadium (at the time, there was still hope for the Diamondbacks).
But in the time since, I see the blue lines of Street View now fill the map for downtown Scottsdale, getting as close as 1/2 a mile from my house. Now I can peek around the fancy shops and galleries of 5th Avenue and Old Town Scottsdale stories selling things like bolo ties and scorpions under glass: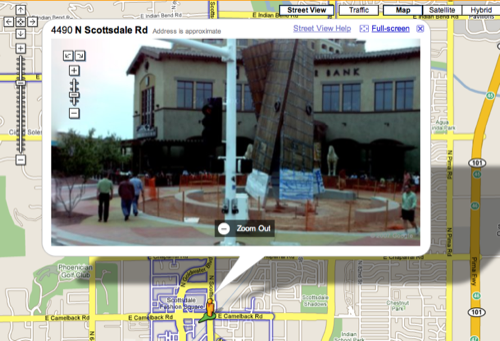 This view is at the heart of Scottsdale, the intersection of Scottsdale and Camelback Roads, looking southwest where giant condos have sprung from once empty lots. This image is right in front of PF Changs (the giant restaurant chain actually started with tis first store just north across the street). I actually have been keen to visit the giant sculpture in front, some sort of kaleidoscope– actually it is Donald Lipski's The Doors and warrants a visit soon with my own camera.
Yes, I know some folks find the camera spylike and freaky, but a part f me is excited about the added enhancement of actually being able to "see" what in the real world is on a map representation. Just wait until you can get this on your phone… or just wait until I can get an iPhone. John Ittelson and I may never suffer the fate of planning to meet for lunch at the convention center in different cities ;-)
The post "Smile When You See This Camera Driving By" was originally assembled from spare parts of a 1957 Chevy at CogDogBlog (http://cogdogblog.com/2007/11/smile/) on November 11, 2007.