cc licensed ( BY ) flickr photo shared by cogdogblog
It's more fluffy than running with the bulls.
The last few days I have enjoyed a relaxing times at my friend's Ken and Oggie's farm in Paonio Colorado- they have an amazing story themselves in how they are devoted to their flock of rare Black Welsh Mountain Sheep, of which there are only 1200 in the US and 10% of those are on their farm. I could not really begin to fill in all the details, which you can find at their web site at http://desertweyr.com.

cc licensed ( BY ) flickr photo shared by cogdogblog
Both Ken and Oogie are also techies; I've known Oogie since my mid 1990s hey day of Macromedia Director and Ken is a real deal hacker/builder- for example he has an entire system of weather data collectors, device routers, that auto publish and archive historic weather data to their site. Ken also got wind of the PirateBox info, and as he had a few Dock Stars among in his equipment, he was able in a few hours to get his own set up, running from an SD card and wired into their local ethernet rather than wireless.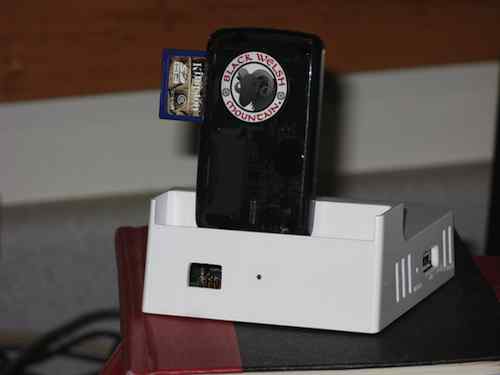 And Oogie has a giant spreadsheet of her sheep and their characteristics that she uses to figure out which ones make better breeders. Ones with bad habits end up as racks and something new I am now fond of- "sheepwurst" bratwurst made of sheep):

cc licensed ( BY ) flickr photo shared by cogdogblog
There is a lot of work to being a small farmer, and I appreciate all I learned about the lifestyle. it is work all the time; they were at the end of their lambing season, and one ewe, one very wide ewe, held out long for lamb number 58 which was born while I was there, likely the last of their season:

cc licensed ( BY ) flickr photo shared by cogdogblog
Ken and Oogie gave me a real strong impression of the strong sense of community in this area, which has a mix of coal miners, ranchers, and the newest group the "hippies" or organic farmers. The latter has grown significantly over the last few years as providers of food for the high end resorts nearby. There are also a good number of local wineries (of which I got to sample from 5 of them Monday).
And a key gathering place in town is a local beer brewery, Revolution Brewing, which in my 3 visits there, served some of the best beer I have had anywhere.

cc licensed ( BY ) flickr photo shared by cogdogblog
Their tasting room here is a former small church building, and it is a place to show your reverence for beer. They have a very friendly atmosphere; they also make local cherry soda for kids, they have a chess club and live music; you can tell from the way people come here that it is a place in town to connect, among all the groups mentioned above.
I did a scenic day trip drive on the West Elk loop, climbing a gravel road through the aspen, and then having some fun lunching and walking around Crested Butte

cc licensed ( BY ) flickr photo shared by cogdogblog
The loop back dropped me down into Gunnison (which I heard referred to as "Gunny"), and on a lark, I stopped in a local coffee shop to give the StoryBox a chance to be out in public. I am seeing that it would be unlikely for someone in a public place to join a network with "Pirate" in the name, so I tried a different tack, and asked a young guy with a laptop to try connecting to it and see if it make sense. As it turns out, Jesse was up here from Phoenix, and he liked the idea, and tossed in a photo of a fish he took here.
The next day, I went with the Box to a coffee shop in Paonia, and while explaining it to others, the guy at the next table started asking questions. As it turns out, Tim is in on a cross country bicycle journey, and odyssey of his own – learn more at http://www.myspace.com/enterthewild (wow, someone blogging on MySpace). And he dropped a great photo of him on his bike into the StoryBox.
The guy working the coffee machine, is a local musician, Joealan who dropped three of his tunes in the StoryBox. And my cousin in Denver I hope to see this weekend, has also sent me 3 live recordings of him on the guitar (Thanks Yosh!).
So I am starting to get a good base of items in the StoryBox- BUT I WANT MORE! Fill it — see http://cogdogblog.com/storybox I will blog and blog and blog about it till y'all join in.
With Ken's understanding of systems, I was able to make some modifications to the front page, so now I have a direct link on the PirateBox to the local version of my StoryBox page (and video) to help explain it.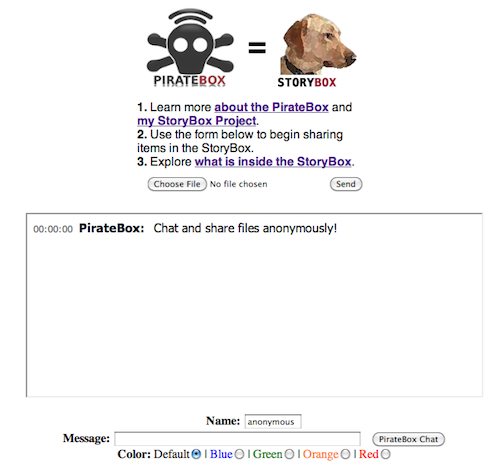 I am thinking also more about the giant listing you get when looking at the content. It is meant to be somewhat of a mix, but as more and more files get in, it may become a long scroller- as a tease, here is a partial view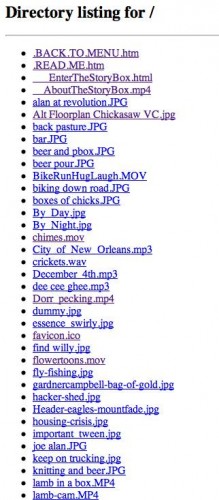 I might start moving things into directories by media type to make it easier to browse.
It is starting to shape up- when you look at photos or here an audio recording, and dont know who it is or where it is from, it opens some story-like questions.
Anyhow, after Paonia, I came down CO 133, and took a nice side trip to see the historic (and still active) marble quarry site in… Marble, Colorado

cc licensed ( BY ) flickr photo shared by cogdogblog
This is the stuff used to make the Lincoln Memorial. It is also a tiny little community nestled in some amazing wilderness area (mountains and fast creeks).
More as we go….