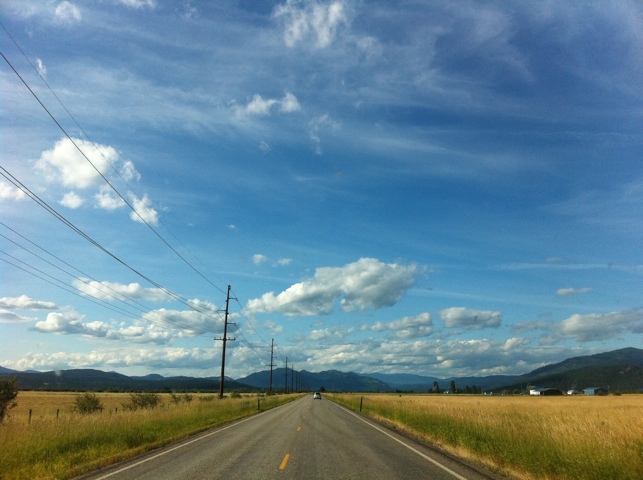 Tomorrow marks the 4 week mark for this Road Odyssey, which is about 1/4 the time I thought I'd travel (but that is not firm). I'll cross the 3000 mile point in the morning, somewhere in north Central Washington State. On the map, I won't make the quarter turn until first week of August, when I reach Victoria, and turn east for the long stretch across Canada.
When I called my Mom today she noted I had not blogged recently! WTF, Mom? Now I have a publishing quota? (kidding, and I reminded her I wrote one 2 days ago– she says "I have nor logged on in 4 days!")
But yes, I am spinning the blog writing wheels. Should I journal the things I am seeing? Aren't my photos (heavily captioned) doing that?
Hence I am in my tent trying to blog something via my iPhone (yes, a real wilderness experience).
I have found I think the rhythm of the road and that disconnected gypsy feeling that what I call "home" is a fuzzy memory.
I'm also waiting for the big thunder clap visions for my future, knowing that vision will softly bubble up and surprise me.
I've seen alot of land and sky so far– northern Idaho is a true gem off the typical tourist routes. Last week I drove through towns (White Bird, Riggins, New Meadows) I just read of in Zen and the Art of Motorcycle Maintenance — I am highlighting much in that book for a future rambling post.
I'll leave this with an interesting tidbit from today's activity. While my truck was getting it's 100,000 mile service at a Ford dealer in Sandpoint Idaho, my friend Donna took me out past Clark Fork (name of the river in A River Runs Through It) to a friends place, an artist who lives in a round cabin on 30 acres of forest, and completely off the grid.
We hiked with a pack of 4 dogs up a logging road to the top of Antelope Mountain (a commanding view). I was about to make a comment about the number of people living in cities who never get to experience this kind of open space. But the lady was recanting the story of the family she and her husband bought their property from– these were real "mountain people" and they moved because "the place had gotten too crowded"!!!
It's all do relative, eh?
I did capture an audio interview with her for the StoryBox, along with 3 photos and a video (what have *you* added lately? See http://cogdogblog.com/storybox and send me stuff now!).
Right now the coyotes have stopped their goodnight chorus (sadly the mosquitos are still at it) and a peaceful quiet is settling over my camp spot.
One quarter of this done? Maybe! I don't know the total sum yet to be making accurate fractions.