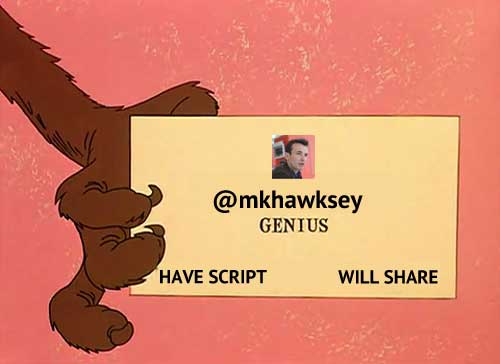 Unlike the not so wiley Coyote, Martin Hawksey's coding genius (a) works without anvils falling or explosions and (b) is not focused on bird chasing… well maybe small blue ones.
What started as a cool thing when I got and hung online my twitter archive after seeing that Martin got his, he then put out there what seemed like a dream
@cogdog with you there hawksey.info/tweets/ . Getting it to auto update might be my first project

— Martin Hawksey (@mhawksey) January 16, 2013
It took him like 24 hours to build this. See Keep your Twitter Archive fresh on Google Drive using a bit of Google Apps Script.
That's right, all of thr history of the Twitter archive, but it automatically updates itself! Martin not only figured out how to do that via the Twitter API, but it runs completely in a Google Spreadsheet.
But wait there is nore.
You can store the whole thing on a Google GDrive, so you do not even need a web host to have your own, dynamically updated twitter archive.
Mine is alive and upating at https://googledrive.com/host/0B3J3hv1B8VO1YUdCeHdRd3pBcVk/
Just for grins, I too a screenshot before I ran an update: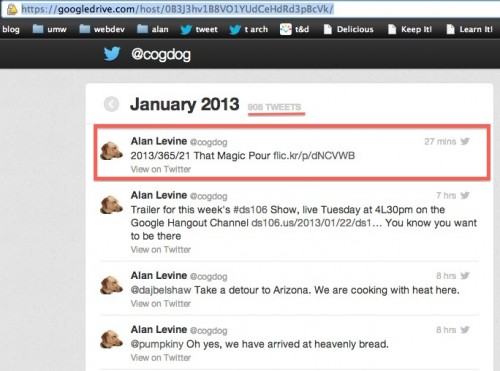 I then tweeted:
Thanks to genius of @mhawksey my twitter archive is autoupdating googledrive.com/host/0B3J3hv1B… This tweet shall soon appear…

— Alan Levine (@cogdog) January 22, 2013
I updated the archive via Martin's script, and check it out: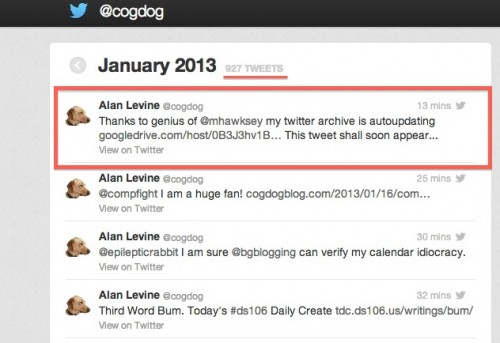 Is this not amazing? The Twitter Archive snapshot is updating itself, running in a public spreadsheet on a public drive. All I need to do is update my subdomain tweets.cogdogblog.com so it forwards to that ugly url (why does google make the ugliest freaking URLs?)
Martin's spreadsheet has a setting to run the updates once a day, so it is fully automated. It even keeps a log of its work: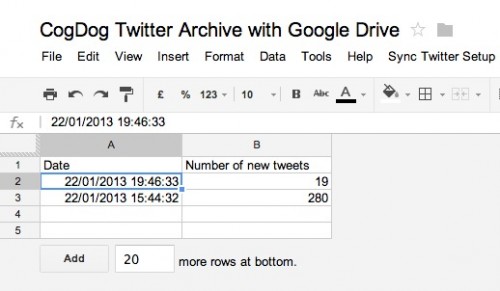 If you are one of the lucky shmucks like me with a twitter archive, give Martin's script magic a try. The rest of ya? Keep behind the velvet ropes. And stop drooling in the red carpet.
Martin, you are a generous genius.
Someone call the castle and get this man knighted!

The That Twitter Archive? Thanks to Martin Hawksey (Genius) ITS ALIVE by CogDogBlog, unless otherwise expressly stated, is licensed under a Creative Commons Attribution-ShareAlike 3.0 Unported License.