I've been trying to use coComment, the tool that allows you to keep a record of your "distributed" blog conversations– by activating a bookmark when commenting elsewhere, coComment stores it on their site,a dn then submits it normally to the blog you are jabbering about. This way you can track conversations by visiting your coComment page (or by using its own RSS feed). Here is a peek at my little bit of coCommeting: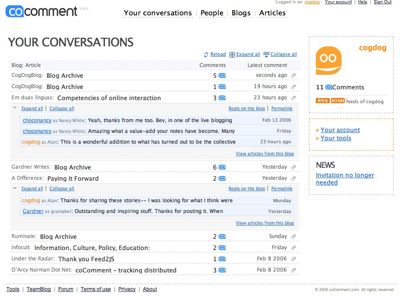 This saves the trouble of having to remember to return to a blog entry to see if anyone responded to your stellar remarks, and avoids having to get email reminders (and not all blogs even offer than as an option). The nice thing is in the view there or via RSS you can track the other responses, not just your own.
Actually I am getting more use out of my coComment RSS feed in my aggregator, I have visited the web version maybe 2 or 3 times.
I like it so far, but…
I cannot always remember to hit the JavaScript bookmarklet tool to activate the coComment feature. My first two weeks my success rate was about 40%, and maybe now I am up to 60% or 70%. I would think this is a prime target for some clever coder to create a FireFox Greasemonkey script that would make it automatic (I know nothing about the monkey writing). I too am wondering about whether it makes sense to coComment my own comments on my own blog, since it has its own comment RSS.
I am trying to coComment but am having trouble coRemember to coActivate the coTool. Maybe I need some coDependence.