There's been more then enough sound and loud reverberations to the DOPA (or is it DOPE-A?) proposal hovering over Washington D.C. to do.. Tom Hoffman has summarized it better than I could under Being Unreasonably Reasonable (and here too):
When it comes to dubious web filtering laws like DOPA, I think you should start with "there is no evidence that this is a problem beyond a few anecdotal reports." Show me some real statistical evidence that students are being harmed in significant numbers because of strangers contacting them through the web while in school. If you want some federal money to study the situation, mazel tov, otherwise, you're just fear-mongering. Come back when you've got some data.
And Will Richardson has posted an open wiki version of a DOPA letter one can send to their elected reps.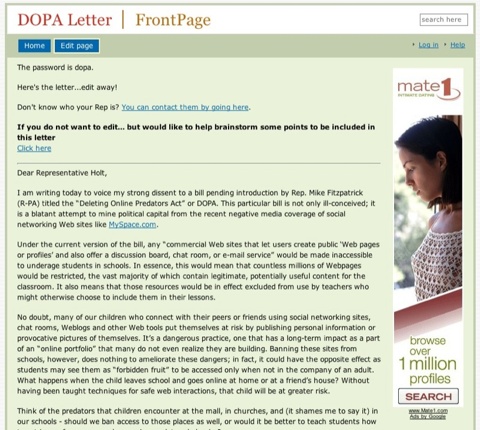 (Is it kind of ironic, weird, that the inserted banner ad is for an "intimate dating" service, offering "search of 1,000,000 profiles?")
I'm not read up enough on this to know if it is more than campaign pot stirring, tv attention seking, but I must admit feeling embarrassed to the rest of the world that our illustrious leaders flex such a knee jerk response. So will Congress kill blogs and wikis and IM? It seems unlikely, but just the fact they are having what seems like plainly ill-informed conversations is scary.
But beyond all that, this is no different from the stuff that passes for local evening news– it's not a story unless there is blood, sirens etc. So what is getting under my skin, is that all this mad hand wringing, crying about the perils of MySpace which, if you follow the hype, is seething with stalking vultures, is based solely on what I believe are the high profile stories of predatory activity. No, I do not pretend it does not exists (much as it exists just outside your real window).
What's not taken into consideration are all the Good Things that happen in the space of social software– it just does not make the news, it is not headline worthy to hear about some school kids connecting across the globe, or how some open source software given away in one corner, is able to make a difference in the lives of another corner, or just how people are able to form new collegial circles not possible before. Nope, "good news" like that is not news, eh? It's my experience and contention, that the sheer number of positive, wholesome, meaningful goodness that happens in social networks is several orders of magnitude more numerous that the high profile "bad news".
So while I am not going to mire myself into the DOPA debate, I'd sure like to shine more light on the positive side of the house. To that end, I have posted an editable wiki page for collecting stories, links, examples of "What's Good in Social Software Space". I am inviting anyone to edit the page, and add their own bullet point. These are not things about how a wiki saved a village from flooding, or what a blog did to cure a disease– no, I am hoping for more personal level stories that have happened because of the availability of these kinds of places on the net.
So there is it is– add yours; Ive seeded it with 3 of my favorite Good Things. Go forth and wiki up yours at http://cogdoghouse.wikispaces.com/WhatsGood