Well Scott, since you asked for it, a few weeks late, I did a hasty screencast this morning of poking through my Google Reader feeds, not as quickly as D'Arcy did with his use of Blogbridge.
But I did pick up on Dr. Norman's method, and got me a copy of iShowU which seems to do a nifty job of screen/audio recording on Mac OSX — it does not save as Flash, but I crunched it a bit in QuickTime Pro to knock off some MB weight (for a smaller dimension movie, I switched my screen res to 800×600 and did full screen at that set).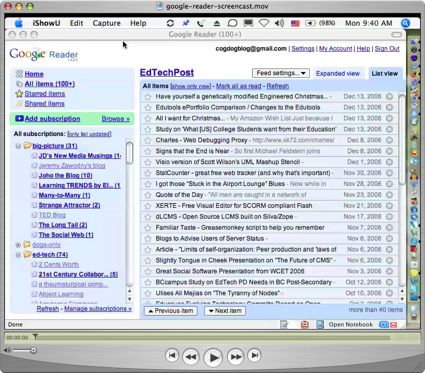 My Google Reader Screencast [10.3 Mb, 6:03]
I am still utterly humbled at the masters of screencasting — it is very much an art to not only get a great recording, but to orchestrate it so as to be interesting, not a fumbling mumbling ramble, or not a snoozer. Maybe next year….