My oft repeated line this year is something about most enjoying the net based things that happen totally without provocation, plan, just spontaneous connectedness. I am sure that its maybe 3% of the general population that can really experience this with wide eyed excited wonder, and I am fortunate to know some of the best among that percentage.
I was setting down to shoot down some emals, perhaps edit those audios I need to publish soon, like yesterday, and as the habit goes, I said, "I'll just check twitter quickly, just a minute to scroll." And there, in the 5 seconds ago, I saw Jen was linking to a ustream.tv channel she was broadcasting on. I'd not done hardly any ustreaming since my trip to Australia, and said, hey, I wonder how it works if you have multiple people broadcasting?
So I flipped on my channel and we could pretty much talk back and forth, and she was relaying chats from ?? Alec Couros and/or Rob Wall?? So without knowing what else to do on camera, I reached for my prop, and brought Fresa on screen:
and then twittered in my ustream URL (which was not easy as I had to type with my left finger trying to hold on to the dog).
So I actually had never seen Jen before and now I will recognize her at Northern Voice next week, rather than doing the awkward-that-never-works name tag glance. And she now knew I had a bearded disguise, and would not expect to look for some clean shaven, showered person.
And then craziness broke out. Scott Leslie came in the chat. D'Arcy Norman flipped on his camera (but no audio). Alec was doing something with CamTwist where he was ustreaming his own desktop screen wo one could see 4 channels going. Will Richardson, Drew from the UK, Pat from Delaware came in. Sue Waters woke up early in Perth and joined. Tod Baker from China appeared.
I was also kidding some fun pokes via IM.
But then it got really circus like cause Jim Groom started broadcasting from Virginia. He brought in his cute son Myles who I introduced to Fresa: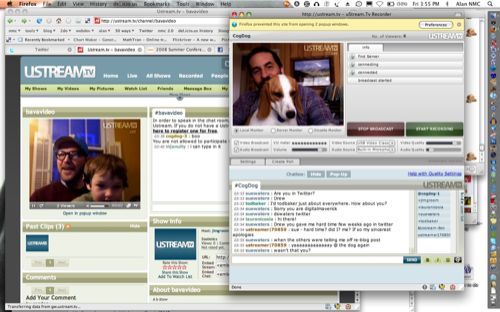 And Jim and I started arguing over who was the real Fake Reverend Jim on twitter (we all know it was him). People in the chat were sharing URLs and twitter handles. It was a sea of unplanned connected crazy energy.
So the skeptics can keep their arms crossed consternation, looking at this as silly or wasteful or something that needs to be banned from the network.
But there is really something there there. If you can drop the fears of the strangeness of this disconnected multichannel communication, beyond what the ultimate meeting of some school standard or calculating some ROI to the 8th decimal place– can you imagine if what happens to our work, learning, our world, if we can tap into the energy that I felt in this 1 hour experience? I don't know how its done, but you don't know without being there, being in the middle of it, not looking in from behind the glass window.
And there is something to point out with positive views- and I am not sure if I have come across this described before. The value of twitter is, to me, in this ability to quickly send a quick Twitter Callout, say "join us for this live Elluminate session", or "Check out our ustream.tv channel", or "Does anyone know a good reference for cognitive dissonance" — people in Twitter respond, and in droves. They push aside their email or feed scanning or dull meetings, and they get active.
So I dont know how you bottle and describe this spontaneous circle today, but I am all intrigued by just the energy vibe at work here, one I have never seen at a conference presentation or classroom lecture.
Try being silly once in a while, it goes a long way.