cc licensed ( BY NC SD ) flickr photo shared by Lady Pain (Marta Manso)
After putting out the idea for the plan three months ago, tomorrow is the day my odyssey starts. After all this talk, and planning, and buying shit, and putting shit into boxes (some are boxes that stay others are ones that go), it is time to hit the road.
I have to admit I have a rollercoaster of emotions zooming around the gut area. I know this will be a grand adventure. I know I am lucky to have this opportunity. Yet, not knowing how living out of the truck for the next 4 months will go, not being around the comfort of my haven in Strawberry, not knowing what will happen, is all part of it.
But I am ready as I will ever be. Tomorrow is last bits of clean up, packup, and hopefully be on the road by 9 or 9:30, angling my way towards the bottom left corner of Colorado for a first night out camping. I will try and do some truck casts along the way, but it will likely be dodgy regions for good signal.
I want to thank the anonymous folks who already share some media for my StoryBox project— of course there is plenty of time, and for many of you, I am bringing the box to you. I've yet to sort out how to customize the front page the python web server generates for the PirateBox, but as a simple way to add my bit to it, I revised the opening graphic: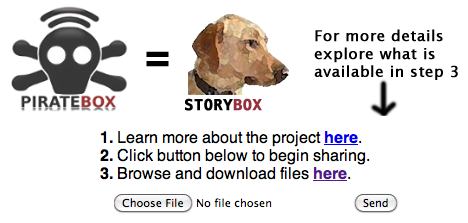 so at least to direct first viewers to look inside the directory. The top file is a local version of the project page, and a link to a local copy of the YouTube video.
So yes, as it grows the directory view will grow long, it will be chaotic, but thats the idea- it is open and a big box. And yes, @cherylcolan, the prompts are wide open, I want 'em that way. We'll see how it goes.
It's going to be weird missing a lot of the "stuff" going on in my networks, the inside jokes, the ds106radio antics, but I'll not be crawling into a hole, just likely a lower online profile. Daily photos shall be taken, (and uploaded, network willing).
But enough of this blather, time to go!