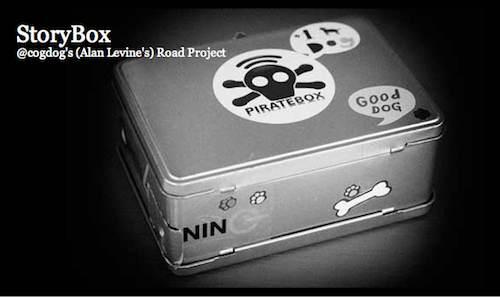 I just created a new page to explain and invite participating in the StoryBoax/PirateBox idea sketched out earlier — you can see the info at the project's new home http://cogdogblog.com/storybox/. it has instructions there on how you can contribute to the project via a dropbox site, just in case I do not cross paths with you (and knowing I wont be crossing oceans) (yet).
The thing is small enough I can carry it around in my camera/laptop case, all in one. Heck, once I get the right power cable, with the battery I purchased I could just walk around as a roving station.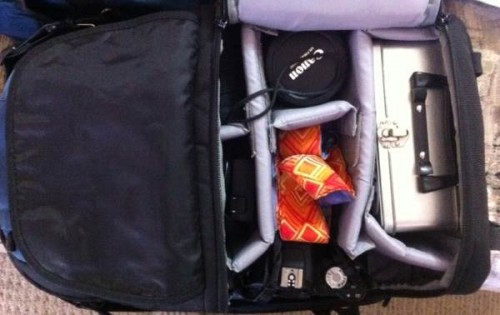 I also made a new Google Map that I will use to document the places the StoryBox has been to (since picking it up from @NoiseProfessor, it has only been to Strawberry, AZ):

View Where is the StoryBox? in a larger map
As I take this device around my road trip, I am hoping to gather in it original content that people share — centered around the question of what really shows/says what this time and place mean to them. If I visit your home, I will explain this project ahead of time, and wil leave the thing on while I am there. On other parts of the trip, I will see what happens if I turn it on in coffee shops, campgrounds, etc.
My next task is to install the same web content from the new web site onto the PirateBox. The out of box default web page is pretty simple: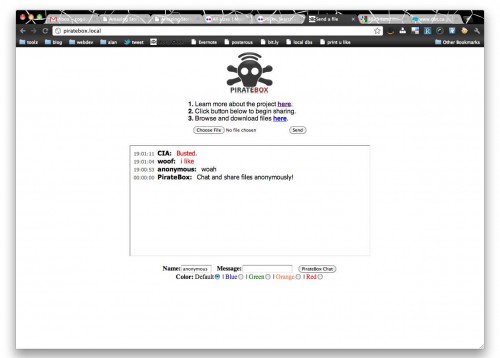 I am going to make my own starting page to go along side this one, but will then link the prompts to separate pages, each in its own web directory, each with its own upload form (it is just javascript, so should work in any directory). This way, if people follow the path of a prompt, when they upload, it will go into the directories I have created.
That will take a tad more fiddling.
I am hoping I can convince one of my graphic drawing friends to make some original illustrations for the main page and the prompts.
The other thing I am working on is setting up a basic user account on my old MacBook (circa 2002) that will be a basic "Creation Machine" for people to use who might not have a computer- I will install basic apps for writing, recording audio, doing graphics. I will try a first test Sunday when I have some of my local Strawberry friends over for a party.
Another thing I realized is that since I am asking people to share anonymously, there is no way later for me to give credit, so I made up a short Google form for anyone who might want to at least tell me they contributed– http://bit.ly/i-shared-storybox
Ok, it is open- now its on all of you, all three of you reading my blog post, to check it out and share something so I know it works!