cc licensed ( BY ) flickr photo shared by cogdogblog
As I drive around the country, I spend a lot of time behind the wheel trying to make guesses at what is worth stopping to see. I cannot pick everything, else I would not get anywhere, and there is a certain amount of blind luck involved (or missing).
This morning I hit a nice jackpot.
I had gotten a good early start for the day, so I knew I had some time to explore- I was just maybe 30 miles up the road, when I passed a marker sign for a "heritage" site in Coleville National Forest, off of highway 20 in north eastern Washington state.
I chuckle a lot about those big "point of interest" or "historical marker" signs you see on the highway; I never stop because most of them describe something that is no longer there, plus, the real magic is when you see something on your own, without a Big Giant Pointing Sign.
I don't know why I did a U-turn after missing the turnoff for Camp Growden, maybe it was the glance of a statue I saw go by, or maybe I really did need a restroom after having extra coffee.
What I found first was the Interpretative Signs- a commemoration of the efforts of the CCC in the 1930s, the idea of President Roosevelt to get people out of the Depression by giving them something to do. I found this quote a bit foreshadowing, could this be more future than past?:
The year is 1932 and one out of three adults in the US is unemployed. The confidence of this nation, known for the self reliance of it's citizenry, is at it's lowest point. Everywhere are the dispirited and anxious stated of the people willing, but unable, to find a way out of the suffocating poverty that has settled over the country
The creek beyond this display area was completely unremarkable and was fenced in by erosion control fencing. Nothing even worth taking a photo of.
What did catch my interest was the hammering sounds and the sight of a group of people working on what looked like an old cabin:

cc licensed ( BY ) flickr photo shared by cogdogblog
I asked one of them what was going on, and was told to talk to Steve, who is an archeologist with the US Forest Service. I got the entire interview on audio, which is going on to my StoryBox, so you only get my summary here.
Growden was the name of the dam the CCC built here in 1937, to create Sherman Lake. It was intended to become a resort in the forest, with many amenities, and the cabin was a bathhouse that was built. The lake was set up, but eventually the Forest Service's efforts got more focused on issues related to the war, and when highway 20 was put it, it caused the water flow to change and the lake completely silted up.
Steve was correct- it still appears as a lake on modern maps, although the satellite view shows the lake is gone (here is Google map screen shot):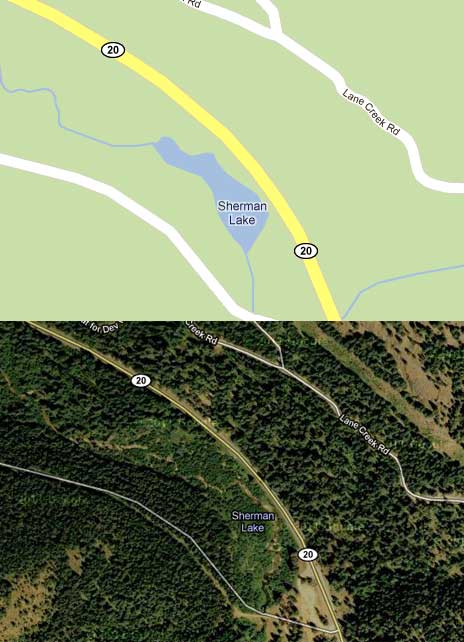 If that is not enough, here is Sherman "Lake"

cc licensed ( BY ) flickr photo shared by cogdogblog
Steve gave me a lot of insight on the restoration project, noting the crew was Forest Service staff, a few archeology students, and volunteers as well. One of them, Beverly explained why she does this:
I love the outdoors and meeting people, and not to lose the belief in human nature.

cc licensed ( BY ) flickr photo shared by cogdogblog
Every house I zoom by, every person I never talk to, every road I don't take — likely reveals gems like this stop today. A lake that is gone, a spirit that lives on.
UPDATE April 20, 2014 I went back to the Storybox for some audio and video and created a video from this experience