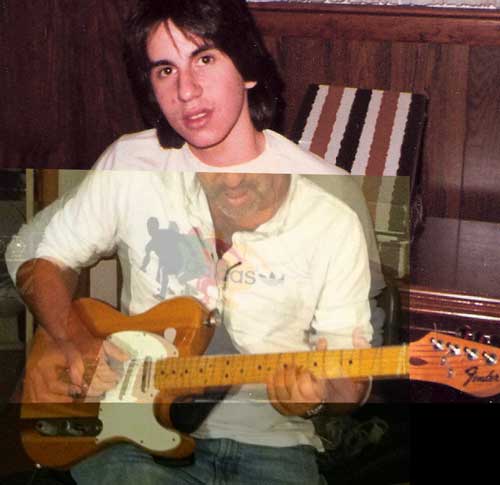 That is 31 years between a photo of me at 17 in my parent's basement and just last night in my friend's son's basement. Much chnages and miles between.
But that blonde telecaster is the same as it ever was, a thing that I just enjoyed holding, then and now.
I have written up the story before – I bought this guitar and a Peavey Backstage amp from an ad in the Baltimore paper. I cannot recall how much I spent, maybe $325? But it was my typical suburban dream to play in band, never realized. At some point later, I sold it to my best friend from high school Kevin, with the idea it would reamin "in the friend's family".
And now fast forward to the present, when the Tele is in the able hands of Kevin's son, Cal, who really is in a band, and is making some beautifully original music with it. Although joking last night with Cal that I heard he was interested in selling it, I could not be more proud to see him use it as his favorite axe.
Cal, a student at Penn State, plays in a trio called Think Twice, Dublin, and it is some rather avant garde complex music, beyond my 3 chord repertoire for sure. Cal has a deep music love, appreciation, and facility (as he shared some unique vinyl). A web site you can find the music http://thinktwicedublin.bandcamp.com/ features a photo of Kevin with the Telecaster back in the 1980s when we shared an apartment in Baltimore. Cal even has the original hard case, which was falling apart when I got the guitar in 1980.
Check out their video (with another guitar), in the goddam woods, recorded in the woods near State College:
in the goddamn woods [part one]: Move Quickly from ThinkTwiceDublin on Vimeo.
It is fascinating to watch a love of connection of music between my friend and his son- you expect music tastes to divide parents and children, but here it bonds, genuinely. I could not be prouder to be a small part of this chain, and as Kevin said last night to me and Cal (and agreed by us three), "The Tele is here, but it really belongs to all of us."
Like the Dude, the Tele abides.