cc licensed ( BY SD ) flickr photo shared by Steve-h
I might now go as far to say I "love" my iPhone, but it must be my most regularly used piece of technology. But my first love was, and will be, the web- that bit that works because Sir Tim made it so that we can always

cc licensed ( BY NC ND ) flickr photo shared by Niro
View Source… is the most overlooked element of the open web.
Tonight, I was jarred to this by an accidental discovery- that in the land of mobile apps, you are subject to the whims of parts you will never see. Here is how it goes.
A few days ago, through a chance twitter mention, I got to speak via Skype to some students of Helen Keegan over in the UK. IN browsing my feed tonight in the Instagram app, I came across a photo she had posted that featured me on their classroom screen.
Hmmmm,. I'd like to use that image in a blog post.
Except.
There is no public URL provided for the instragram image, although it does post one to social media sites. I poked all over the interface, and could find not not way to share someone else's photos.
What to do?
Bitch via twitter!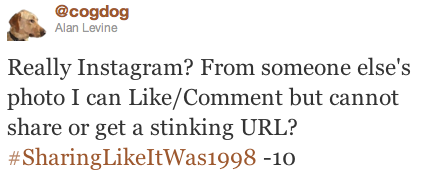 From here a string of responses from @timmmmyboy and @savasavasava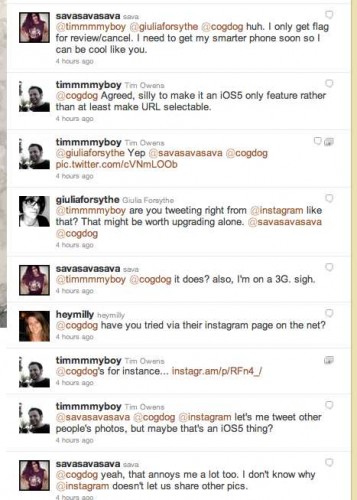 What we see is that in the iOS5, you get extra features- you can tweet and instragram.
Wow, you can tweet it, the app posts a URL for the image, but does not reveal they URL to the user.
In fact if you go about on the instragr.am web site on a computer, there is no access at all to the images. Why is it hidden?
Well, it turns out you cna use a third party site, http://web.stagram.com/, where eventually I did find the image I sought: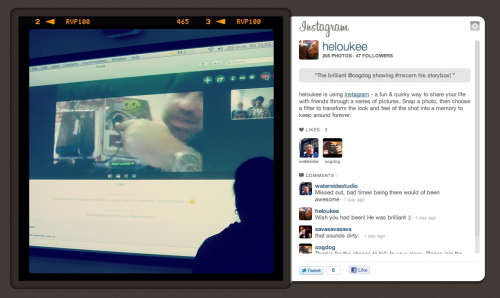 which provides… get ready… a link to the original om the instragram site http://instagr.am/p/Q6WFf/.
They have the URLs but do not release them. WTF?
So again, Instagram has all their photos linked, URLs are available via APIs, but not shared with users of the app.
Yeah, it is their perogative, it is a free app.
But is a stupid design. The only in app "sharing" they offer for other people's photos is liking and commenting, and if you have the newer iOS, tweeting.
I can shrug this off. But I am concerned, and a bit pissed off, that we glibly accept the limits of what apps do not give to us, they very thing that makes the we magic for me.
Give me any web page, and I have access to look under the hood and see what it does. If apps were like that, I might be able to pull the sheet back enough to see where it has the URL of an Instagram image.
But apps are not, and likely will never be. They are nailed closed.
And thus, the web will alway be my focus. I doubt I will spend time learning to build apps because… well I am not interested in being part of a closed box environment.
The beuaty of the web is that its underside is open, the very reason I grokked into HTML in the first place.
The web will always trump an app to me.
And I am done using Instagram. You can put that in your nailed up box and smoke it.