I cannot seem to locate the tweet (the concept that Twitter search really searches everything is shattered every time I try), but a month or two back, @DrGarcia lamented a wee bit some sadness of not receiving letters in the mail. She's overly generous in the letter writing department.
The practice of handwriting letters or postcards is not quite retro enough yet to be hip, but no inbox ding can match the warm feeling of finding a letter from a friend in your real mailbox.
I came up with an idea to do a serialized chain of postcards, borrowing from the old idea of Burma Shave road sign poetry.
I started by just trying to write out what might work as a 4 or 6 card series, thinking first of many of GNA's tweets about dealing with the winter Chicago weather and the busses that do not show up.
Writing hurt my hand! I hardly write. And I tried to be consistent with some block lettering, screwing up the S most of the time. On the address part, I tried to use a different "font" style, call cap, lower case, and the most forgotten form, cursive.
This was fun to do. I went to the mailbox 6 days in a row– sort of I forgot one or two days — , I am hoping the cards arrived not quite knowing how long the trip from Kamloops, BC would take. All the card fronts (not shown) are from the Thompson River University campus.
This Wikimedia Commons image is more than an appropriate example since it is from my home state of Arizona, along the part of Route 66 west of Kingman, a place called Hackberry (very near a spot on the map called "Valentine"). This is a great part of the classic road since its not just the forgotten strip next to I-40, but its own scenic route to the town of Oatman.
Talk about old school advertising (this from Wikipedia):
Burma-Shave sign series first appeared in Minneapolis, Minnesota in 1925, and remained a major advertising component until 1963 in most of the contiguous United States. The exceptions were New Mexico, Arizona, and Nevada (deemed to have insufficient road traffic), and Massachusetts (eliminated due to that state's high land rentals and roadside foliage). Typically, six consecutive small signs would be posted along the edge of highways, spaced for sequential reading by passing motorists. The last sign was almost always the name of the product. The signs were originally produced in two color combinations: red-and-white and orange-and-black, though the latter was eliminated after a few years. A special white-on-blue set of signs was developed for South Dakota, which restricted the color red on roadside signs to official warning notices.

This use of a series of small signs, each of which bore part of a commercial message, was a successful approach to highway advertising during the early years of highway travel, drawing the attention of passing motorists who were curious to learn the punchline. As the Interstate system expanded in the late 1950s and vehicle speeds increased, it became more difficult to attract motorists' attention with small signs. When the company was acquired by Phillip Morris, the signs were discontinued on advice of counsel.
Not surprisingly, twitter is the perfect vehicle for Burma Shave messages. @Burmashave runs 'em "we offer for / your starving brains / the news summed up / in trite quatrains (25x daily)" Or semi frequent messages from @burmashave_sign. Or @Burmashave_ which seems to a musician that has nothing to do with old signs or rhymes.
Not surprisingly the idea has been xkcd-ed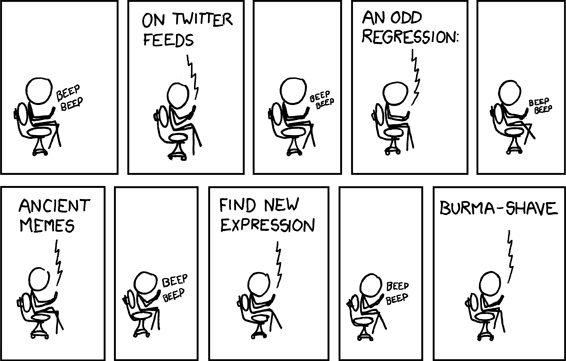 And the requisite "This would make a great DS106 Daily Create"
Rhyme on, this was more fun with a pen than I have done in a while.