I've known for a while of the features of IFTTT (If This Than That) and maybe had one or two recipes set up in an account I forgot making there, but never really got in to make one for myself.
Being late for this party is no big deal- but it's quite an elegant concept, almost like a Yahoo Pipes made really really more limited but also more guided to set up. Basically, it lets you shuttle information, media from one web service to another, to do something neither one does (because they are different services).
This came about today in the course of my new project (which is the subject of the next post). But I am trying to do a lot of my notetaking and resource gathering in Evernote (another tool I've had laying around but have used more or less as a random pile of notes).
So yes, I can clip/bookmark web sites into one of my notebooks. But I also like to bookmark and organize my web resources in pinboard — which I have grown to love more and more.
What I wanted was a way to bookmark stuff in pinboard and have to automatically cross post to Evernote. IFTTT is well organized, I can see all the things it can do from Pinboard, but the closest existing recipe I can find is one that saves ALL pinboard bookmarks to Evernote.
Hm.
It's drop dead easy, under "My Recipes" menu, I can create a new recipe
Great design. I think if I click "this" I can go on, eh?
Yes.
You start by picking a "trigger" something that starts your recipe. There are all kinds of things, I knew I wanted mine to be Pinboard, but oddly enough there is a Home Depot one (you can have something happen if a price changes at Home Depot, like tweet PICK UP THAT HOME GENERATOR BUB!).
The triggers you can get are different for different services. In Pinboard, I can have something happen every time I bookmark something, or just when I use a specified tag:
I'm not going to walk through the rest, but it's insanely easy, and sensible. One of the best designed experiences on the web.
I decided my trigger would be every time I marked a bookmark in Pinboard with the tag evernoted, and the THEN action would be to create a link note in an Evernote notebook named Pinboarded (I could have opted to just append the bookmarks to a single note, but they seem more useful as separate content pieces).
So I bookmarked two sites in Pinboard tagging them evernoted (and a few others tags, because tags are groovy)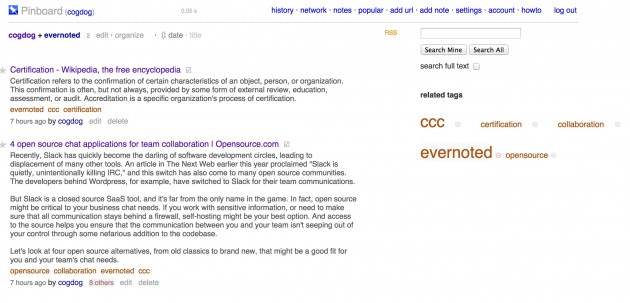 And sure enough, in a few minutes, there are the bookmarks in Evernote: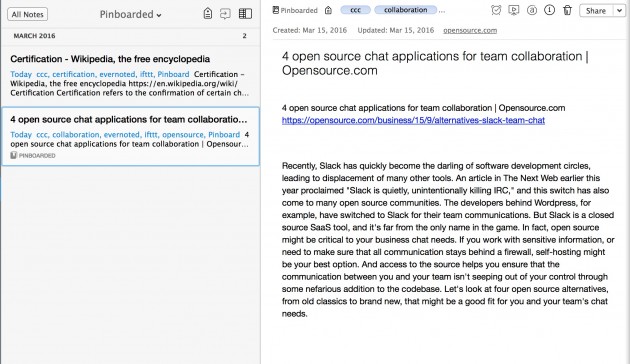 This is so un-rocket science, and for anyone who has been doing this for years, the response will be "Duh".
And I can just go on running my little recipe, and it works. But then, I can Publish the recipe, meaning that someone else can do it– and they can pick their own tag to use as a Pinboard Trigger and decide which Evernote Notebook to drop the bookmarks into. Heck I can embed the recipe here:
I'm late to this game but loving it. Talk about making the web like a thing you can control, to some small tiny degree? Yeah…
---
Top / Featured Image: Screenshot of my IFTTT Recipe made today