Note, this is an long running project to revisit 35 internet art works from the late 1990s featured in the book New Media Art, somewhat in curiosity to see how many of the original works are still available. The author, Mark tribe, had at one time published the text in a wiki at Brown University, which sadly now is gone or locked behind a login. Thank ______ for the Internet Archive Wayback Machine, where the wiki still lives)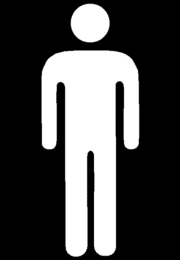 When: 1998
Technologies: HTML, Java, JavaScript, Perl, PHP, MySQL
Current URL: http://brandon.guggenheim.org/
Wikibook Chapter: http://web.archive.org/web/20131012003938/https://wiki.brown.edu/confluence/display/MarkTribe/Shu+Lea+Cheang
This web exhibit centering on the tragic story of Teena Brandon was commissioned by the Guggenheim Museum a year before Brandon's story was popularized in the movie Boys Don't Cry.
Born biologically a girl, Brandon was brutally raped and killed at age 21 for trying to live as a man.  The web exhibit by Shu Lea Cheang is thankfully still available now, opening with this fascinating animated GIF of the male/female restroom icons morphing into each other. One might not even guess on entering the experience that this site is 18 years old.
Unlike the movie, this story uses the affordances of the web to play out non-linearly, as a mystery to explore, all along gathering visual clues to what happened to Brandon.
As well as a metaphor of experiences that pop up along an animated road- in other contexts, maybe a road to discovery, but in this one, a road of ultimate tragedy:
It is impressive how well this piece holds up both technically, aesthetically, and for its message.
By choosing the Web as her primary medium for this project, Cheang suggests a connection between Brandon's story of gender bending in the physical world and the parallel phenomenon of gender play online, in which people assume online personae that don't correspond to their embodied selves.
And Cheang's work was more than an exhibit, it was part of a year-long outreach project that included public discussion forums "dealing with the social implications of the digital body" as well as events where curators, critics, and participants could add images to the web site.
And this is but one of an impressive body of work by Cheang, see more at http://www.mauvaiscontact.info/
---
Top / Feature Image: The animated GIF from the exhibit's home page was opened in Photoshop; and all frames were exported as separate files, and then brought back into Photoshop with the Contact Sheet script to make the collage of frames from the original GIF.