During our recent project team meeting we had an idea to share the status of the Creative Commons Certification for Open Education Week:
You are free to browse the current completed Core Certification units published here in WordPress or the same source content that originates in GitHub.
But we are asking as one that fits for Open Education Week, that you give Examples of Licenses in Action unit (part of the Creative Commons Module):
We'd like you to share any feedback on this unit via the web form at the bottom, but in particular, we ask you to try out one of the "quest" activities for this unit, Recommend an Uncommon (?) Creative Commons Use Case: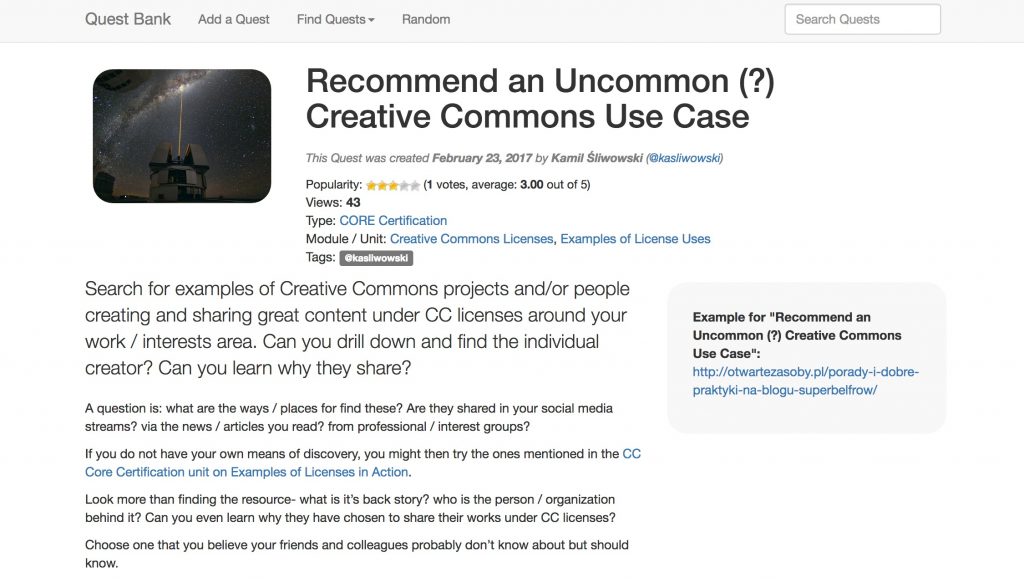 A quest asks you to do/create something, and share it as a response (and it can be tweeted too).
Please share with us via a #cccert hashtag in your favorite social media platform.
If you want to connect and talk to us about the test drive, we will be available online Wednesday March 29 at the time converted below to local time- connect via an uberconference connection (no accounts required):
Time converter at worldtimebuddy.com
We look forward to seeing you on the test track.
---
Featured image: Single frame from "OSVehicle Modular Platform" video by OSVehicle licensed under a CC BY license.