In ramping up for next week's Mural UDG project on open education at the University of Guadalajara, I go back to something that, after so many years should be more enabled by technology, but is as messy as always.
Giving attribution for reused photos is an old horse ridden around this blog, and this very simple, human form of appreciation still seems much more exception than anything else.
I was reminded of this when my former Maricopa colleague Jim (and also neighbor) sent an email with a subject line of "Look what I found. It does show your copyright in the link" and a URL.
It's an MSN story on The Best Brewery in Every State and sure enough I recognize the photo: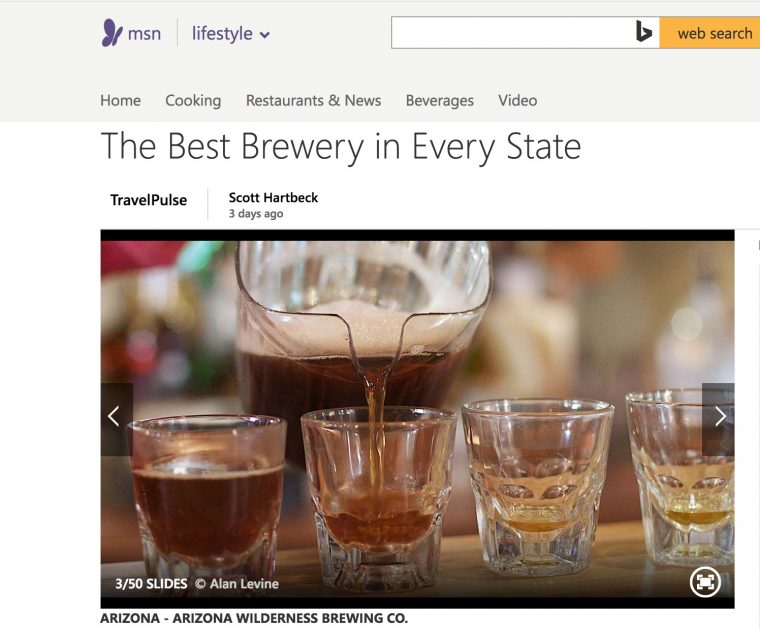 And they do give credit with a © Alan Levine so they do give credit. What they do not provide are (a) a link/url to the original; (b) the fact that the photo is actually licensed under Creative Commons BY license; (c) The caption is wrong; the photo is at THAT Brewery in Pine; they were from a series of photos I took when brewers from Arizona Wilderness Brewing Company (in Gilbert) visited the brewery near me in Pine.
For an attribution grade, I give MSN a D- according to the rubric. But no one enforces attribution nor do they enforce licenses.
But let's rely on Google's AI to find the image
That is quite useful if you are looking for Russian reviews of American movies (and the image does not even appear).
Google yields 11 more web sites that have used this photo:
Guess how many provided attribution for the image?
I'm waiting.
Yup.
Zero. Nada.
Why? Because 99.2% of the world's web sites (arm chair estimate, sue me) never model giving credit for photos.
I know it's my photo and vagule recall the day I took it, but I am fuzzy on exactly where/when. But I can search my flickr stream on beer pour and find it in 5 seconds (that's the benefit of writing titles and captions pn photos, if I just mass uploaded photos named IMG8265642.jpg I'd never find them).
I am so insane about attribution I attribute my own photos (I am not legally required to do so); if you see me not attributing photos because it's not required, then you might generalize that behavior to all photos found on Russian Film review web sites.
I learned of this photo re-use not because of Google, AI, blockchain, but because of a human connection, a friend who took 30 seconds to send me an email.
That is how a human network works; also like this:
just found this image to use in my session on storytelling and the language of achievement in my psychology of L&T class tomorrow…. when I went to attribute the image, I realised it was by my friend @cogdog https://t.co/HfjqCHrkip
cool pic, man! pic.twitter.com/SJbhhHPcxf

— laura ritchie (@laura_ritchie) March 1, 2018
I'm with John Henry, I will keep hammering by hand.
Since technology does not really help me find re-use of my own photos, I do it manually. For the last few years, when I come across a reuse, or when people comment/thank me in a comment (which does happen on a regular basis), I've been adding to my own album of reused photos: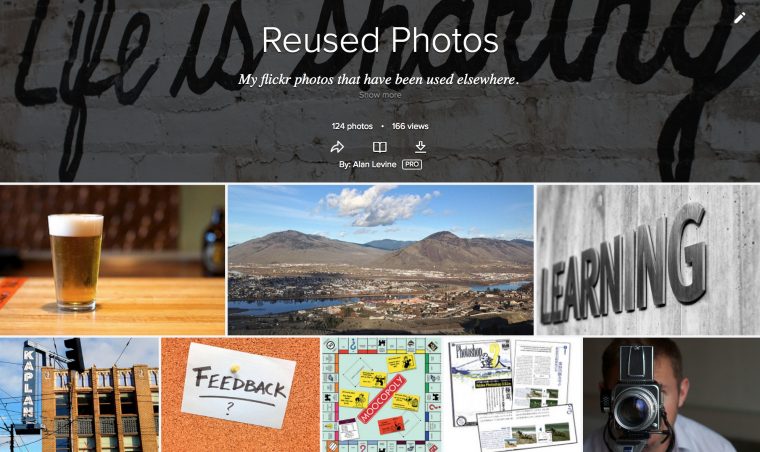 I have little expectation the practice of simply saying thanks via attribution will happen on the web at any measurable level; but I will aim to do it every time (I am nto 100%, but maybe 99.2%?).
How about you? Is your practice like everyone else to just grab images from Google and reuse w/ saying thanks? Mom would not be happy with you. Try some thanktribution. It means a lot.
---
Featured Image: Hot Scotchy Pour flickr photo by cogdogblog shared under a Creative Commons (BY) license