One of the biggest hurdles in giving and getting attribution for shared photos is that the information that might provide this information is either not included in the photo metadata, or if it is, it's not really used.
The technology is there to do this. It's just messy.
But via ResearchBuzz this is starting to change in one of the biggest piles of web photos
Google Blog: Image rights metadata in Google Images – https://t.co/NJ8caPiHV9

— Tara Calishain (@ResearchBuzz) September 28, 2018
From this post,
As part of a collaboration between Google, photo industry consortium CEPIC, and IPTC, the global technical standards body for the news media, you can now access rights-related image metadata in Google Images.

It's traditionally been difficult to know the creator of images on the web, as well as who might own the rights. This information is often part of image metadata, and is key to protecting image copyright and licensing information.

Starting today, we've added Creator and Credit metadata whenever present to images on Google Images. To see this information on Google Images, you can click on the "Image Credits" link to view the metadata fields. Over the coming weeks, we will also add Copyright Notice metadata.
I of course had to test it out, but had trouble finding where this was happening. Then, looking at the screenshot in the article, it was in the mobile version of Google Images, which some feel is all there is.
But later, I finally found where it is in the old man's desktop interface. And of course, I was eager to find one of my images. So I tried the obvious search on some variations of "dog" "felix" till he came up (he had 2 years of photos in Arizona; Saskatchewan will be catching up soon!)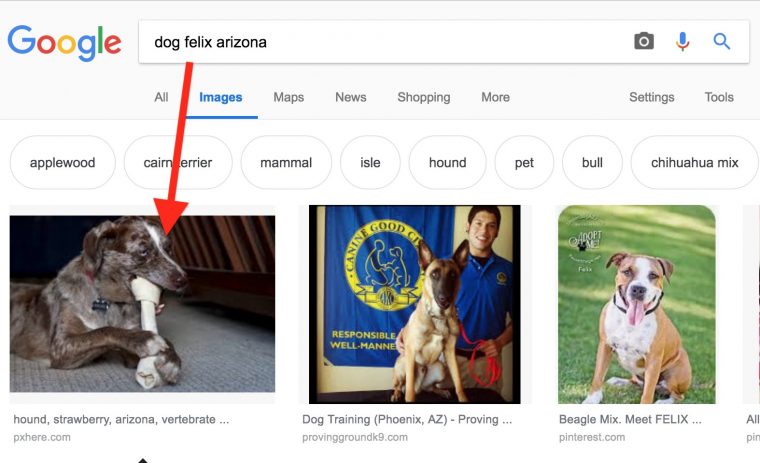 And clicking the image for a larger view, there is a new link below it for "image credits"
The ironic thing is the source of the image is not me (directly) but a link to pxhere.com a site that harvests public domain photos.
But I know how to find my pwn photos! Here is the original
This is why I do not recommend pxhere.com – while I have been able to batch convert most of my flickr photos to a CC0 Public Domain license, flickr could not handle all my photos; this one still carries a Creative Commons CC-BY Attribution license. So pxhere.com is in license violation. I had previously reported to them instances where this happened, but why do I need to be doing the work? They seem shady to me.
But that's not the issue here. It's because pxhere.com harvested the original size image from flickr, that it carries the IPTC metadata in the image, which Google is now using. While I love flickr to death, one of its problems I have never understood is that when it makes derivative sized images (the smaller sizes than the original), it strips out all the photo metadata. And Google more commonly indexes the 1024px wide size images from flickr.
As another experiment, I decided to try the new feature on the images I post to my Barking Dog Studios site – the images I upload are exported from my Aperture software, which bakes in not only the camera metadata (EXIF metadata about the exposure, camera, lens) and IPTC data I have Aperture set to publish.
The way I have this custom WordPress site up, all I need to do to publish is upload the image to the post; it automatically displays the information below the photo from the EXIF/IPTC metadata – check out this same image on Barking Dog Studios https://barkingdog.me/photos/2967
To find images from this site only, my Google Image search was for site:barkingdog.me, and sure enough, most of them now are showing the image credit links in the results: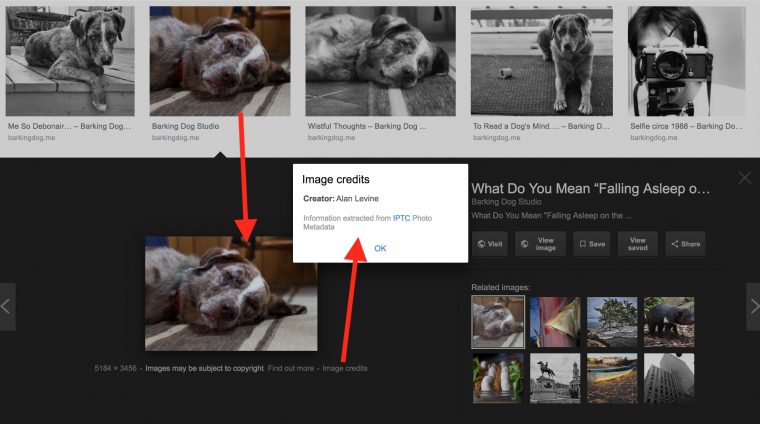 Now photo metadata is a bit to sort out. Most common is EXIF metadata, all kinds of stuff about the camera, lens, image editing software etc. IPTC data is atop this, there are many fields for Creator, and I have Aperture add my name as creator as well as a Rights statement (either CC-BY on older images or CC0 on new ones).
Seeing this is hard. On Mac OS, a GetInfo on an image files only shows some EXIF data. An EXIF Viewer app I have does not show it. The only way I could see this information was via a tool from IMGonline.com.ua, and I can be sure it's there for the photo above:
This is good news that Google is starting to display Creator and soon, Rights statement, though to me, it's very very late in the game to be doing something they should have been doing all along.
This may help some at making sure the creator and rights statement goes where the images do, but there are so many holes- the lack of metadata in flickr derived images, the likely sheer small number of people who can even figure out how to get this data into their images.
It's messy, eh?
It's one small step for Google, a little bit of a leap for attribution-kind.
---
Featured Image:
To confirm the metadata for Felix's photo, you'd have to download the original image uploaded to flickr and use a tool like View EXIF, IPTC, XMP and other data of JPG photo online where you find: