From free web sites biting the dust to the rise of the deleters the web is one precarious pile of links.
My lonely ongoing struggle has been preserving the webs I'm responsible for, which could be a full time job if it paid anything. One of the more shameful, thanks for creating all this web content so we could get bought and now we will trash it, was wikispaces.
There was an earlier free web-based siki site I was found of, PB Wiki named from it's intent was "making a wiki is as easy as making a peanut butter sandwich".
This was one I had totally forgotten until I got an email:
We noticed that you haven't used your workspace named: New Learning Technologies Buffet for over 11 months.


As you may have heard, we reclaim workspaces that have fallen into disuse (PBworks Spring Cleaning).


Reclaiming these idle workspaces frees up thousands of potentially useful URLs for people who will actually put them to use. We're planning to reclaim your workspace in 30 days.


If you want to keep your workspace, click here. If you're not currently logged into your PBworks account, you'll be asked to log in. You'll know that your workspace has been removed from the deletion list once the warning message disappears.


If you're truly no longer using your workspace, simply do nothing, and in 30 days, we'll delete the unused workspace and reclaim its URL.


Thanks,
The PBworks Team
Actually it was more like 11 years since I touched that wiki! Something about the tone irked me- "if you don't value your stuff we are going to reclaim it for someone who might appreciate it more". But hey, I did the one click to preserve the wiki. I love my old webs.
Not that I am using it (don't tell them).
This was a typical kind of (cue the quaint 8 bit music) Web 2.0 thing one did in the mid 2000s. It was a workshop I co-presented with a colleague at Maricopa, for some Library staff at Chandler-Gilbert Community College.
Even back then I was into metaphors, this one was rife with food ones for the New Learning Technologies Buffet – it might be a cheesy nostalgic trip back for some, and more likely a yawner for most of the people who were born after then.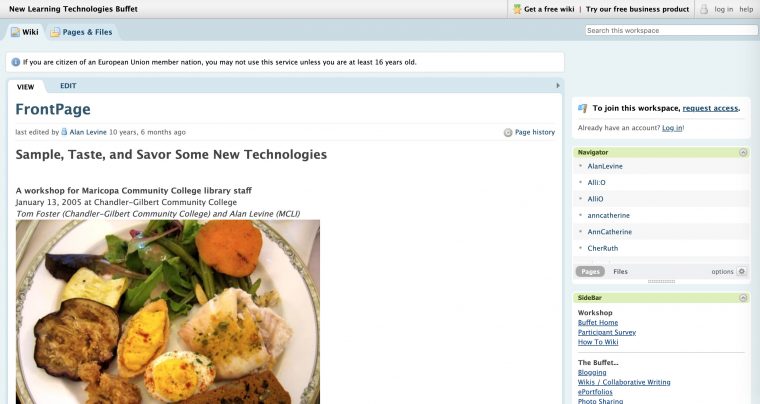 And yes, you will see photos of food as metaphors, all of them attributed to where they were found in flickr (all but one were still there).
The background stuff included:
and the "meat" of it was these HOT topics
The not so funny part is seeing that 90% of the external links to articles, tools, resources are dead links. The valuable part of the then new wiki concept was letting participants create their own pages. Even if they did not know what to say, look they were claiming a domain!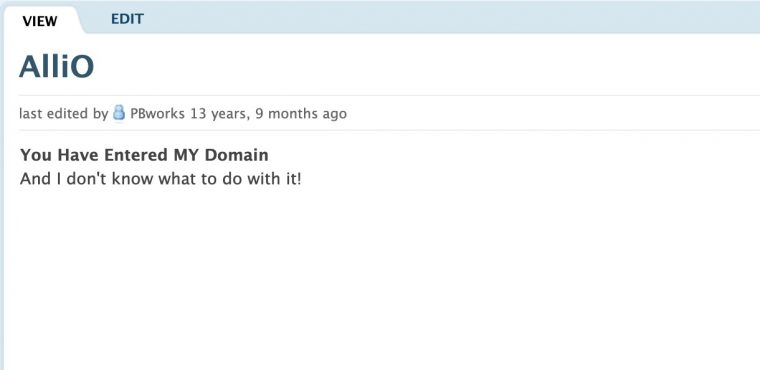 At least PBWorks is not just clearcutting old wikis like Wikispaces did. But if you don't claim your old wiki, they will reclaim it back. For what it's worth, maybe just my own archiving of what the 2005 web was like. Like a garden
---
Featured Image: A picyrl public domain image of Rubber Reclamation "Rubber reclamation. Scrap tires mobilized for Victory. Millions of discarded casings cover more than 100 acres at one Midwest recovery plant. Systematic piling and sectional arrangement reduce fire hazard. Special processes will separate metal from the tires and tube bodies. The reclaimed material will be used to manufacture thousands of essential mechanical rubber products. Firestone"