Not that it's that blog worthy that as maybe the most frequent SPLOT user, "I Did It Again", but I thought this concept was nifty. Timely. Perhaps even resonating.
And I am also going to violate the rules I set out by blogging it, but I think the site as crested (as in a tiny ripple).
For this year's round of Networked Narratives, my colleague Mia Zamora and I cast a theme asking students to focus on imagining what the Post Pandemic University will be like. When we landed on this theme, I was a bit skeptical but it struck me that for first year students or ones just starting a masters program which represents our students, the had no "normal" experience to shape a new normal. They were at the front lines of this experience.
Somewhere early in the semester I thought of Frank Warren's Post Secret project launched way back in 2005 where he invited anyone to mail him an anonymous postcard with whatever secret they wanted to share. I think I saw him present this at the 2008 SXSW conference.
The concept of the project was that completely anonymous people decorate a postcard and portray a secret that they had never previously revealed. No restrictions are made on the content of the secret; only that it must be completely truthful and must never have been spoken before.

https://postsecret.com/
I wondered if there might be value in creating for the NetNarr students (or anyone) a place to record private thoughts, observations about This Pandemic Moment.
Thus a new SPLOT was born, using the TRU Writer theme, ideal for creating anonymous writing spaces. I called it Pandemic Whispers.
It was while I was introducing it in class that a counter-intuitive thought occured to me. Typically, to get an idea like this used, I would do what I am doing here, blog about it, tweet about it, and wait for them to come. But what if we did not publicly announce this, and spread the old fashion way, from one person telling another through non-public channels.
So I sent a lot of emails, sent direct messages to friends, colleagues to give it a try. There was a pretty good response, interest. A few would respond that they just submitted which dispelled the anonymous layer as I would see just one new item. But somewhere down the line, I was less able to figure out who had submitted what. Maybe it was rippling out.
As of last week, there were 41 whispers (see them all or try one at random). Not massive, but still an interesting collection. There's short expressions of frustration and secretive pleasing thoughts. Poems. Art.
But it seems to have run its course. So I lift my own embargo on sharing and am blogging it. As if my readership counts as significant? But if you are curious, the whisper box is still open.
Hold the Phone
In a meeting last week, OE Global colleague (well technically, my boss) Paul Stacey shared a project that he said he thought I would appreciate as something similar. Telephone (https://phonebook.gallery/) is "A game of art whispered around the world" (hence Paul suggesting it).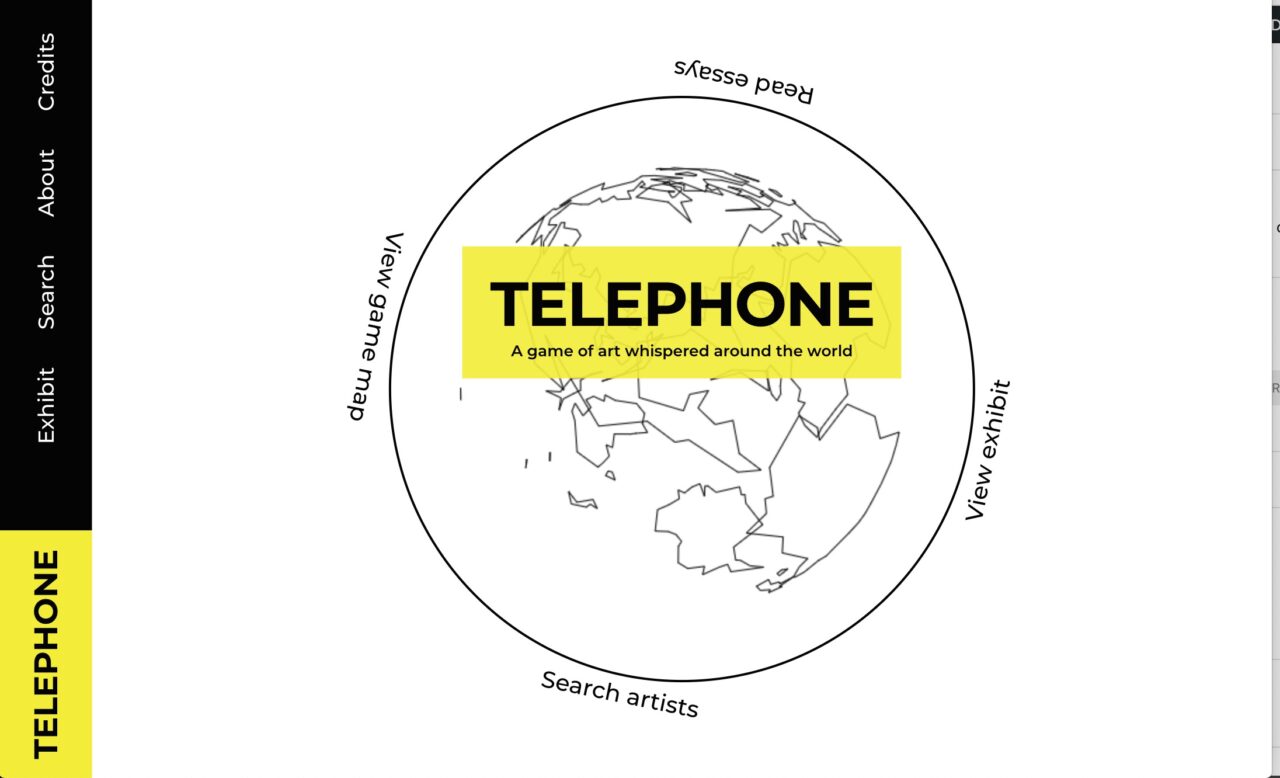 TELEPHONE is just like the kids' game. A message is whispered from one person to another and changes as it is passed.

We whisper a message from art form to art form. A message could become a painting, then music, then poetry, then dance. We whisper each finished work of art to multiple artists so the game branches out exponentially.

Halfway through the game, we reverse the process. We start assigning multiple artworks to a single artist. We ask each artist to find what the works have in common and to create a translation of that into their own art form.

So — TELEPHONE begins with one message, passes that message through more than 900 artists from 72 countries and then concludes with a single artwork.
You can explore it via artist name, a geographic map, or the game map that shows the flow. It's quite a luscious interface that draws you into seemingless endless paths.
A day later I was ketchupping with my good friend Gardner Campbell and he asked if I had hear about an art site called "telephone."
Yup!
It's orders of magnitude more interesting and world circling than my little project.
But why compare? I am still quite pleased with my tiny little whisper project… because I was able to make it happen. Explore a pandemic whisper or a telephone and enjoy them both (or not at all).. Art is art, who cares about scale and size?
---
Feature Image: Pssssssss flickr photo by cogdogblog shared into the public domain using Creative Commons Public Domain Dedication (CC0) modified by adding an overlay old telephone pixabay image by mistytableau.